As a vinyl records collector, you are going to buy and sell vinyl at one time or the other. And whenever you decide to trade, it will be required to grade the LPs. So, it is essential to have a guide for grading vinyl records. Interestingly, it is not a standardized system and can vary from one user to another, especially in the online domain.
There is still a reasonably standard grading system within our guide for grading vinyl records to help you with your buying or selling process.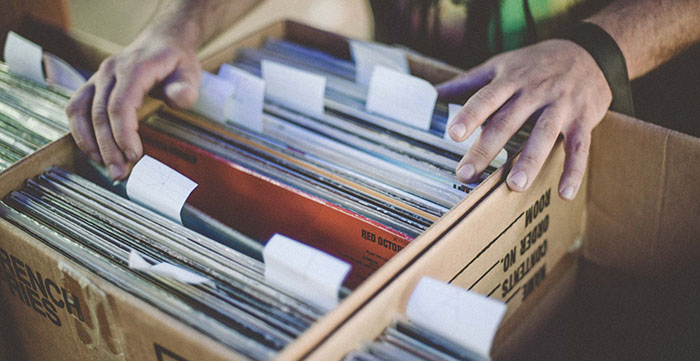 Basic Grading System
Our guide for grading vinyl records can help you grade Vinyl records into the following categories based on their condition.
1. Mint
An LP in 'mint' or M condition is considered to be perfect. It means that it is usually sealed and has never been played.
-The record is in brand new condition without any surface marks
-There is no deterioration of sound quality
-Cover and additional items such as booklet, lyric sheet, and poster are in excellent condition
If a record is advertised to be Unplayed or Sealed, it should be taken to be in Mint condition. It is sporadic to come across records which are in this condition. It is agreed upon only when multiple individuals agree that the record is in such state.
2. Near Mint
The record in 'near mint' or NM condition has been played no more than a few times. It appears glossy and has remained on a shelf between other vinyl.
-Such records don't have any marks
-The package is complete
-It looks just like it is from a store and you are opening it for the first time
Interestingly, many sellers will not use a higher grade than NM. Most often, NM is the highest grading found with most records. It is occasional to come across an authentic Mint graded vinyl. So if you are looking for the perfect LP, you should search for Near Mint records. They are shiny and don't have any visible defects. There is no writing, markings, or stickers on the label. They don't have any ring wear, creases, and seam splits. Besides, they are free from any spindle marks.
Spindle marks appear when the user tries to place the record blindly on the player. NM records are also free from any factory defects. If a record has been pressed off-centre, it cannot have NM grade. When played, it shouldn't have any surface noise.
At the same time, of course, keep in mind that an NM record doesn't always mean that it should have never played before. A vinyl that usually plays on a great record player can still be Near Mint after several plays also.
3. Excellent
It is almost Near Mint, but you can tolerate very slight marks at the point where the record has been in and out of the sleeve. There can be very tiny signs that show a very light use of the vinyl. There is extremely low lessening in terms of audio quality. We can refer to it as 'E'.
4. Very Good Plus
The key features here include the following:
-Few additional faults are acceptable in VG+
-No-fault is accepted that can compromise on the record both audibly and visually
-There can be light and inaudible marks
-There can be little rub
5. Very Good
A vinyl that has 'very good' or VG grade means that it has seen some use and is usable.
-There can be light clicks and pops
-Also, there can be light visible scratches
-It may also have an edge split
-Record is both audibly and visually used
-You can find it interesting to look at and also it is good to listen to
There is no significant deterioration in audio quality. There can be noticeable surface marks. The cover and other items can also have normal wear and tear.
6. Good
A vinyl record in 'Good' or G condition means that it has been played extensively. You should expect the following from it:
-Audio quality has significantly deteriorated
-There can be mild scratches and audio distortion
-The cover and other items have suffered edge scuffing, folding, discoloration or spine splits.
We suggest you sell vinyl in Good condition, but not to buy it. You can sell only highly desirable units in this condition and at a bargain.
7. Fair
A record in 'fair' condition means that it is still in just playable condition.
-The vinyl has not properly been cared for
-There is significant surface noise
-It can also jump
-Cover and other items can be stained, torn, or defaced
8. Poor
If the record is in 'poor' condition, it means that it cannot play properly because of lousy surface noise and scratches. The cover can have some damages, and some items may be missing.
Both with Fair (F) and Poor (P) graded vinyl, trying to listen to them will be a disturbing experience. There can be significant skipping, noise issue, or repeating. The vinyl can have cracks, warps, and deep scratches.
9. Bad
A vinyl graded 'bad' will be unplayable. It may even be broken. It is of no more value than being collection-filler.
Grading for Selling (GUIDE FOR GRADING VINYL RECORDS)
When selling, you will have to rank your vinyl record. Follow these tips for the process:
-You will require a large and flat table
-There should be good overhead lighting (daylight is the ideal lighting)
-Record deck set up
-A large magnifying glass
-Grade the sleeve and the vinyl separately
-If it has no seal, you should not grade it as 'mint.'
-Check the sleeve from different angles – front, back, edges, corners, and laminate
-Check the sleeve for any damages, split, wear, bends, creases, and dirt
-You can remove Grime and ring wear using a clean and damp cotton cloth. You can also use a soft white eraser
-Check for the original inserts, inner, or other items that make the set complete. Check their condition too.
-Take out the vinyl from the sleeve holding it with the fingers on the label and thumb on the edge
-Check the vinyl from different angles
-Find out what the general impression is – Is it glossy? Is it good looking? Are there any concerning damages? Does it show signs of having lived a bit?
-Use a record cleaning machine, if you have one
-Spin the vinyl on a record player and check from the edge for any warps
-Check the label for any marks or writing
-Check the tag using the matrix numbers or catalogue number
-Take a close look at the record using a giant magnifying glass
-Search for any damages on the surface and come up with your own opinion
Final Step (GUIDE FOR GRADING VINYL RECORDS)
Once you complete all these steps, place the vinyl back on the record player and clean off all the dust using an antistatic brush. Place the needle through the intro and before the first track. Check tracks on a random basis. Place it on a few gaps between tracks. Also, place it on any damages you may have noticed. Run the record loud. If it is an expensive vinyl, you should listen to it to the entirety when grading. Make sure to note down any faults and mention them in the description.
Grading for Buying (GUIDE FOR GRADING VINYL RECORDS)
Grading a vinyl record when buying it can be a challenge. You may be purchasing it online or from a store, street market, or boot fair.
Follow these tips when evaluating the record's grade when buying:
-First impressions are essential. Get a general idea of the seller and what they have to offer
-If everything they offer looks 'used', it should help create an accurate impression
-Check the sleeve, edges, front and back, and corners
-Take the vinyl out of the cover and check it from different angles in proper illumination
-Look for any signs of warp
-Check whether the inner sleeve is there
-We usually recommend purchasing Good or higher graded vinyl records
-Check whether the vinyl belongs to the person selling it
-Ask them where they got them. Did they buy them new or second-hand?
-It is best to purchase records that a person finds pride in owning
-These points should help you determine whether the grading is accurate or not
Final Thoughts on our GUIDE FOR GRADING VINYL RECORDS!
When grading vinyl records, these are the high standards that you should into account. When it comes to Near Mint grade, vinyl from the early 1950s should also meet the same rules as for a disc from the 1990s. At the same time, you should know that no more than 4% of all the records available today from the 50s and 60s are in exact NM condition. And this is the reason they are worth so much, including the more common albums.
vinylvirgins.com