Neil Young can be irascible at the best of times, but things were looking particularly dour when he and his band The Stray Gators rolled into Tuscaloosa, Alabama, in February 1973.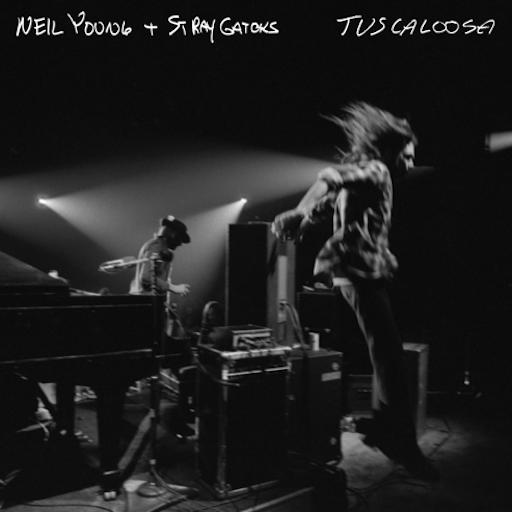 Though his 1972 release Harvest was the top-selling album in America that year, Young was not in a celebratory mood. He was shaken by the recent death of his friend and ex-bandmate Danny Whitten, who had a fatal overdose the same night that Young dismissed him from rehearsals for the Harvest tour, which itself was famously fraught Young later complained about "money hassles," and the shows were so shaky at one point that he asked David Crosby and Graham Nash to come lend a hand on backing vocals. Young was also unsettled enough by his growing solo success that he sought to undercut it by loading concerts with new material that audiences wouldn't have heard before, rather than trotting out the familiar songs that have come to define his career. Maybe that accounts for the arrival in October 1973 of Time Fades Away, a piecemeal live album of previously unreleased songs, instead of the hit-laden setlist from his Feb. 5 show at the University of Alabama.
Young kept that recording locked away for 46 years before selecting it for his ongoing Archives series. Far better late than never: though Tuscaloosa doesn't include the full show, the album captures Young and The Stray Gators, his band between 1971-73, in peak form. The sound quality is startlingly clear and the band is locked in on a track list that features five of the 10 songs from Harvest, a couple of tunes from earlier albums and a handful of then-new songs. The musicians—Tim Drummond on bass, Kenny Buttrey on drums, Jack Nitzsche on piano and Ben Keith on steel guitar—play with practiced ease that belies the turbulent context of the tour. They sound laid-back and comfortable as they slide in unobtrusively behind Young in a way that lets him carry the show without doing all the heavy lifting himself. Buttrey creates an unfussy framework with the straightforward beat on "Old Man" while Keith adds ornamentation with haunting steel guitar licks that glisten alongside Young's distinctive, yawping tenor. Though Young's voice is a little shout-y on the chorus, he does an admirable job staying on pitch in a college basketball arena that wasn't built with sonic fidelity in mind. (Not everything went so smoothly: Young has said a version of "The Loner" was too out of tune to include here.)
Young is just as good alone on "After the Gold Rush," the second of two solo performances that open Tuscaloosa. He accompanies himself on piano, his voice sounding desolate and full of longing as he pushes up to the very top of his range. Without the horns that adorned the studio version of the song, Young powers through the middle part with a simple, serviceable piano solo. Later, with the band, he cranks up the volume on a strident version of "Alabama," a pointed song about the state's troubled racial history. It's not quite as audacious as the sharper-edged "Southern Man" would have been in the land of the Crimson Tide, but Young doesn't hold back. His guitar tone is thick and spiky on the brawny riff, while Nitzsche adds a hint of nuance with minor-key piano fills, complemented by wide and a little ragged vocal harmonies on the refrain.
Though he has never been known for his stage banter, Young is (comparatively) outgoing and engaging here. He introduces "After the Gold Rush" as "about a dream I had one morning," and dedicates "Lookout Joe" to American troops returning from Vietnam, where the U.S. had suspended combat operations just a few weeks before. Young prefaces "Heart of Gold" with an anecdote about rejecting an opportunity to license the song for a commercial before telling the crowd, "Don't clap for this story, because most of it I'm making up and it isn't true."
That's not bad shtick for a guy with a fairly pronounced misanthropic streak. Yet his grumpy persona has long contrasted with the more tender elements of his music, which can be intimate and moving when it's not blaring and terse. Tuscaloosa showcases Young's full range, which makes it a rare glimpse of a now-iconic performer at a moment when he was working to find a balance between satisfying himself and pleasing his audience.
Paste Magazine 05-06-2019