Composed of former Cream, Blind Faith and Ginger Baker Air Force drummer Ginger Baker, and brothers, Adrian and Paul Gurvitz, previously with The Gun and Three Man Army on lead guitar and bass respectively, Baker Gurvitz Army recorded and released three albums between 1974 and 1976, playing their own unique style of jazz influenced hard rock original tunes written mainly by Adrian Gurvitz, with Ginger Baker contributing to many of the compositions. Esoteric Recordings has compiled the twenty six tracks from the three albums on 'Since Beginning' with four live tracks added as bonus material.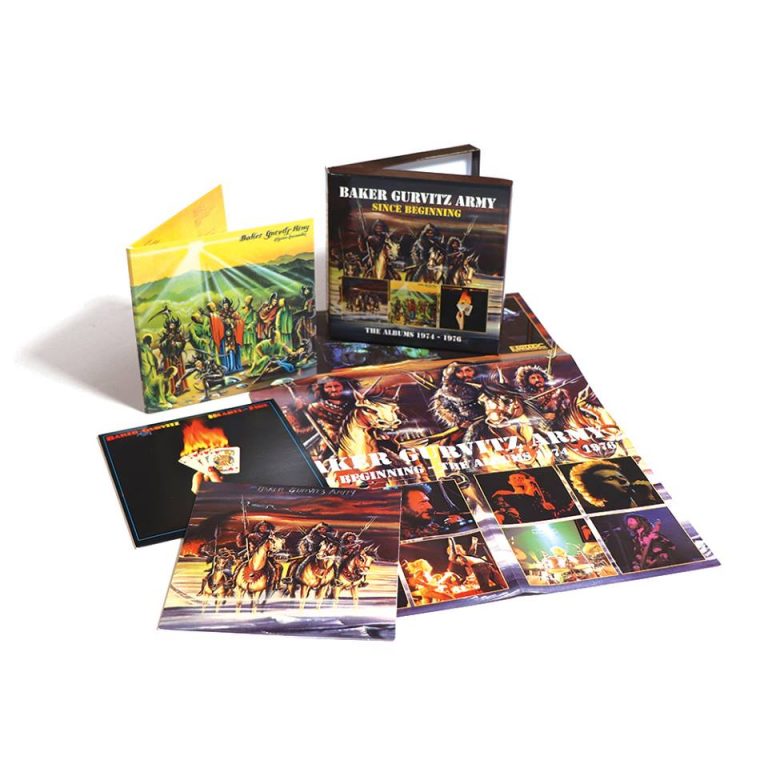 Disc one opens with the eight tracks from 'Baker Gurvitz Army' released in 1974. 'Help Me' is a jazz influenced heavy rocker, with a great solo by Gurvitz, supplemented by the piano and synthesizer aid of session player John Norman Mitchell. The hard rocking 'Love Is' features Gurvitz's heavy guitar and Baker's insistent drumming, with Mitchell's synthesizer giving the tune a progressive rock feel. 'Memory Lane' is a straight ahead rocker with Adrian Gurvitz's guitar dominating the song until Baker's drum solo takes over and plays the song out. 'Inside Of Me' is mellower, with a nice riff, until Gurvitz turns up the heat with his guitar. 'I Wanna Live Again' is another gentle number, balladish and featuring pleasant orchestration and vocal harmonies. 'Mad Jack' features Adrian Gurvitz on slide guitar and vocals by Baker. The band stretches out on this number which features a spoken passage and vibes by Baker and organ by Mitchell. '4 Phil' is bluesy with Gurvitz's slide guitar to the fore, as the beat builds to the outro. 'Since Beginning' has a jazzy feel with Baker's drums and gorgeous vocal harmonies dominating until Gurvitz's slide guitar and overdubbed lead line take center stage. Disc one closes with a ten minute plus live take on 'Memory Lane' which, like it's studio counterpart, is a hard rocker, this time featuring vocals by Mr. Snips (Stephen Parsons) as well as Mitchell on keyboards. However, Baker's drums dominate the performance until the eight minute mark when Gurvitz's guitar and Mitchell's keyboards rev up, with the crowd cheering them on.
The band's second album 'Elysian Encounter' like their debut was self-produced. Released in 1975, the group was a quintet at this point with vocalist Mr. Snips and keyboard player Paul Lerner now full fledged members. The sophomore effort is much more blues based, however, and is dominated by the slide guitar work of Adrian Gurvitz, who wrote or co-wrote all eight of the LP's tracks. 'People' is a hard rocker with Gurvitz's guitar and Baker's drums at the helm. Gurvitz contributes a tasty solo and Lerner's synthesizer adds texture. 'The Key' is another blues tune featuring Gurvitz's slide guitar supplemented by Lerner's synthesizer. The next two tunes 'Time' and 'The Gambler' are further bluesy showcases for Gurvitz's slide work. 'The Dreamer' rocks harder but once again features slide guitar by Gurvitz who solos the song out. 'Remember' co-written by Baker and Gurvitz starts as another blues number but the band turns up the beat mid-tune with a hot instrumental passage dominated by Baker's drums and Gurvitz's swirling guitar. 'The Artist' has a George Harrison feel, as does most of the album, with Gurvitz's slide guitar leading to a heavy close. The album ends with 'The Hustler' a melodic, snappy guitar and piano driven track highlighted by Gurvitz's driving solo and tasty lead line. Two bonus tracks, recorded live, fill out disc two of the set. An extended take on 'People' finds Baker riding his hi hats to introduce the song with Gurvitz's lead guitar and Lerner's synthesizer joining in as the band exhibits its chops. Another showcase for Gurvitz's guitar and Lerner's synthesizer, the tune's outro features Baker riding his hi hats once again. The disc closes with a tasty cover of Jimi Hendrix's 'Freedom' which remains true to the original with Gurvitz's guitar dominating. The band's sound mellows before building to a heavy rock finish with the crowd cheering the group on.
Baker Gurvitz Army released their third and final album 'Hearts On Fire' in 1976. The band elected to use an outside producer for the first time, with Eddy Offord, known for is work with bands such an Emerson, Lake and Palmer and Yes, doing the honors. The album features a more accessible sound while maintaining their heavy rock edge. The LP's title track is a bluesy rocker with an r and b feel, not unlike Bob Seger and The Silver Bullet Band at their best. Adrian Gurvitz sets the song's tone with his heavy riff and contributes a memorable wah wah drenched solo, while Snips' deep, husky lead vocals bring Seger to mind. 'Neon Lights' features a heavy guitar intro building to a crescendo by Gurvitz, his restrained solo and gorgeous synthesizer work by Ken Freeman give the tune strong possibilities had it been released as a single. 'Smiling' is a mellow number featuring a nice hook thanks to Gurvitz's clean, crisp lead guitar and wah wah, a Hammond organ contribution by Ann O'Dell and Bruce Chalton's clavinet. 'Tracks Of My Life' is an orchestrated mid-tempo ballad, with another tasteful hook and gorgeous vocal harmonies. 'Flying In And Out Of Stardom' is a driving rocker with a heavy riff, a killer lead line and a solo that takes the song over. 'Dancing The Night Away' opens with Freeman's synthesizer, with Paul Gurvitz's heavy bass line carrying the song and adding to its commercial possibilities. The piano intro of 'My Mind Is Healing' leads to a tasty bass line by Paul Gurvitz and a heavy riff by brother Adrian, who contributes slide guitar, a nicely overdubbed solo and another hot solo, with Ann O'Dell's Hammond organ and Snips' Segeresque vocals making this the heaviest number on the LP. 'Thirsty For The Blues' brings to mind a mixture of George Harrison and Chicago blues with Adrian Gurvitz's guitar taking the lead. 'Night People' is another accessible song featuring a slide guitar intro, a chugging riff and nice tempo changes as Gurvitz's guitar heats up and roars and Snips' contributes gorgeous vocals Gurvitz's guitar comes out roaring on the album closer 'Mystery' which offers up yet more luscious vocals by Snips and is the perfect closer to this hook laden LP that deserved much more attention than it received. The disc closes with a live take on the otherwise unrecorded band original 'Wotever It Is' with Baker's drums introducing the tunes' heavy riff. Highlights include a keyboard solo by Peter Lerner and a nice groove supplied by Baker and Paul Gurvitz's driving drums and bass and Adrian's heavy guitar riff, with Gurvitz's guitar and Lerner's synthesizer trading licks and Gurvitz adding one last solo before Lerner's synthesizer delivers the tune's outro.
'Since Beginning: The Albums 1974-1976' is a wonderful document of the possibilities offered by the Baker Gurvitz Army, though the LP's failed to hit upon release either in the UK or the US. The live bonus cuts are evidence of a band quite able to deliver hard rock tunes filled with accessible hooks. The sets' three discs are housed in mini-LP sleeves tucked into a clamshell box, complete with an illustrated poster and full track listings. This box set will appeal to fans of blues rock, hard rock and progressive rock and comes most highly recommended.
Psychedelic Baby 10-06-2019