There is a really good new book out about Irish psych-folkies Dr Strangely Strange, titled Fitting Pieces To The Jigsaw. It's an insightful view of one of the most magical folk (psych) rock groups of the time. Adrian Whittaker's work is an important addition to any decent '60s music library and captures magical moments in words and pictures.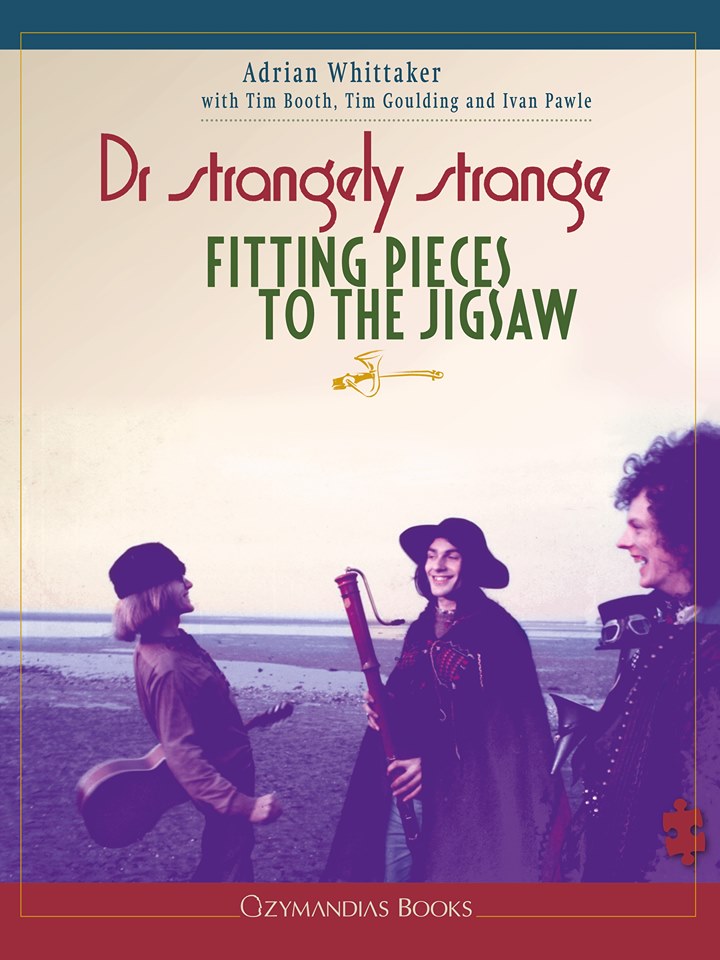 The book has had some great reviews to date, including a 5-star review in Record Collector and a rave review in Prog mag. You can check out the reviews here.
I asked author Adrian Whittaker to do an It's Psychedelic Baby interview with the three founding members, Ivan Pawle, Tim Goulding and Tim Booth – here it is.
Where and when did you grow up? Was music a big part of your family life?
Ivan Pawle: I grew up on a farm in Suffolk. We had my mother's grand piano at home and we all took piano lessons at school. I stopped at about Grade 5 or 6, just wanting to play by ear. My mother had danced – ballet and American tap. She showed me the rudiments of boogie-woogie in the key of F. I bought the sheet music for "Rock Around The Clock". An Irishman came to our prep school to teach Latin and play harmonium for hymns, and I persuaded him to help me to parse the sheet music, but it still didn't bear much resemblance to Bill & The Comets' record.
There was a wind-up gramophone and a few records. Specifically l enjoyed a single by Nellie Lutcher, with Fine Brown Frame on one side and "Hurry On Down" on the other. There was also some boogie-woogie by Albert Ammons and Meade Lux Lewis. On the classical side there was a good deal of ballet music, and I liked the L'Arlésienne suite by Bizet. The nearest thing to 'folk' would have been "The Foggy Dew" by Peter Pears and Benjamin Britten.
Tim Booth: I grew up on a farm not far from Dublin. When I was 12, my mother – an accomplished pianist – wanted me to take piano lessons but the piano did not have the required coolness factor, so after a decent amount of negotiation she took me to McCollough Pigott's on Dublin's Dawson Street and for six old Pounds bought me a steel strung acoustic guitar.
Tim Goulding: I grew up in County Wicklow, Ireland, in a house in the Dargle Valley. My father could read piano music and used to play Forties and Fifties show tunes and boogie-woogie with a really loose and enthusiastic touch.
When did you begin playing music? What was your first instrument?
Ivan Pawle: I was in a school rock'n'roll band, The Virtues, on guitar or piano, loosely modelled on The Ventures and The Shadows. I started flute lessons, but l was too impatient and switched to fife and bugle to play in the Combined Cadet Force military band – anything to get out of drill. I joined the RAF section and we went on a summer camp to Little Rissington airbase, to which I brought my guitar. A lad from another school also had a guitar, and we had a kind of competition as champions for our schools. I have to say that he had more chops than me, but l had more songs, and we played together fairly well: bits of Buddy Holly, Eddie Cochrane, and Lonnie Donegan.
We formed a small jazz group at school. Most of our material was fairly mainstream – "Satin Doll" was one of our best numbers. Charles Warlow on acoustic guitar composed a piece entitled 'For Four' – Carl played bass, I played flute, and Tony Skinner played drums. We entered the school quartets competition and were Highly Commended by the external examiner. We were surprised and pleased!
Tim Booth: My secondary school, being one of the only co-educational schools in the country, was very advanced for its time – that's the main reason I was sent there – and held dances for its pupils every couple of weeks. We shuffled around the parquet floor of the classroom under the eagle eye of the headmaster – no indiscreet touching or fondling among the senior pupils was tolerated – to the music of Bill Haley And The Comets, Marvin Rainwater, Perry Como, and later, Cliff Richard, Elvis, The Shadows and Joe Brown And The Bruvvers.
With my new guitar, I was about to buy into a golden circle of coolness, but I had overlooked one vital fact. I needed to learn how to play it, and this proved difficult. Firstly, you had to tune it. Then, there were things called chords to be mastered and then… you had to learn how to pitch your voice to the key you had chosen to play within. So much stuff. And then Denis Kelly with his Groucho Marx hair style and walk arrived in from Sligo and he could play "Three Steps To Heaven" and "Diana" with a very cool finger flick which, after hours of practising, I finally mastered. So we became a junior band and when fellow pupil Brian Trench revealed how musically talented he was, there was no holding us.
By my final year, we were doing a spot in the school's dances, calling ourselves The Romans, playing Everly Brothers, early Elvis and some of our own stuff. Our signature tune was "Roaming In The Gloaming", with a massive off-beat and a sort of Sir Douglas Quintet attempted vibe.
Tim Goulding: At boarding school in England, I played the cello, with difficulty, and learnt to play classical piano up to the age of twelve. Then it became too much like maths, with the result that to this day I cannot read the dots. My particular diet of music included Bartok, Shostakovich, Charlie Mingus, Modern Jazz Quartet, Dave Brubeck and Gabriel Faure, so I missed out on popular music until I was nearly 18. The first concert I attended was at the Albert Hall, with Sir Adrian Boult conducting the London Symphony Orchestra with Maura Lympany playing Greig's First Piano Concerto. The first record I bought, though, was "Long Tall Sally" by Little Richard, 'the man who put funk in rock and roll.'
"The Incredible String Band was undoubtedly an influence"
Who were your major influences?
Ivan Pawle: The Incredible String Band was undoubtedly an influence – even to the extent of 'Sure, l can give this a go…' – the same spirit that was to inform the punk ethos ten years later. When the ISB's Robin Williamson came over to Dublin, I heard some superlative singing and playing, "October Song", "Womankind" and the "Smoke-Shovelling Song" for example. Robin and Licorice left me some LSD, to take when I would feel ready for it, and obviously, acid was a huge life-changing eye-opener. In terms of musical creativity, it was the grass and hashish that got one going. No doubt about it. I found the music of the ISB perfectly wonderful, and unprecedented. I was inspired by it and thereby influenced, especially insofar as modes and modalities were opened up and explored as never before. When I left school I had made a few faltering attempts at songwriting; early influences would have been skiffle and Buddy Holly, then Bob Dylan, I guess. I used to like to go to a late-night coffee shop at the Pike Theatre, Dublin, where I heard some good singers and pickers. I have always maintained that I try to write my own stuff as I'm so bad at learning other people's songs, especially in the canon of folk music.
Tim Booth: The old Lysergic did have a bit of an influence in the songwriting, still does. The ISB much less so. I was always aware of the ISB and their capers, but when they gambolled off into Hubbardism like lambs to the slaughter, my interest waned. I was interested in rhythm and timing, enjoyed good flatpicking and rock 'n' roll music and these elements, coupled with harmony singing and hallucination, floated my boat. The other major influence on my limited songwriting was – of course – Bob Dylan.
Tim Goulding: I was never consciously inspired by the ISB but they were very strongly part of our musical scenario. LSD definitely gave a sneak preview to the 'awakened state' that many mystics alluded to. I think the Strangelies were less philosophically explicit than the ISB. Definitely more tongue-in-cheek but nonetheless reporting from experience and a large dollop of imagination. My early songs were to some extent laced with an underlying sense of one-ness – the Buddhist concept of non-dualism. Ivan too refers to this in a later song: "The path exists but not the traveller on it." I explored this more consciously in later work.
What kind of music did you play very early on?
Ivan Pawle: Booth and I made our debut in October 1967 at Trinity College, Dublin. I cringe to remember some moments. We cobbled together an acoustic melange. Booth had a version of Bobbie Gentry's "Ode To Billy Joe" with different words, including references to the Mamas And Papas jumping off Dublin's Ha'penny Bridge. As well as "Hey Joe", some esoteric instrumentals and "Wild Thing" with me on ocarina and saz, we also did a couple of Dylan/New Lost City Ramblers songs.
When Brian Trench joined, we rehearsed harmonies quite a lot. "Honey What You Want Me To Do" by Jimmy Reed was one of our regular numbers. Brian brought along some original compositions, including a world-weary complaint, "Life Is A Bucketful", and a mild protest about Dublin Corporation's neglect of historic buildings, which we performed on our first TV slot on the Late Late Show. Though I thought this was a disastrous choice, Booth says it was 'topical as fuck, so we gained instant recognition and notoriety.' We got a very nice letter from the Dublin Housing Action Committee thanking us.'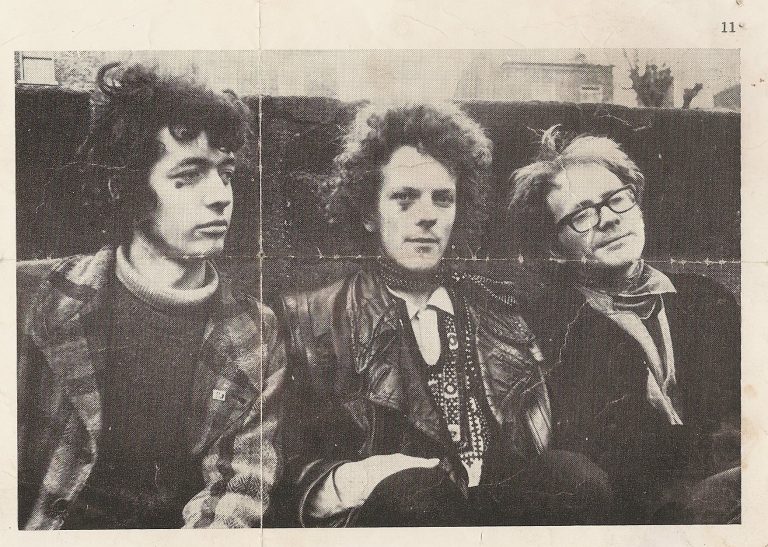 Tim Goulding: I replaced Brian Trench in mid-1968. They had an eye on my harmonium. I had an eye on Tim Booth's Japanese ping pong bats, which we used as percussion instruments. I'm sure they rued the day that they set eyes on the harmonium as they carried it up and down stairs all over England and Ireland. I also added a highly individual take on 'jazz recorder,' which made our sound even more distinctive.
I was classically trained on the piano, and at my first gigs with the band I struggled to learn to play by intuition. Joining the Strangeleies was an exciting challenge as I was totally unfit for following other players. Typically they might say 'This is in A and goes to E via D.' That was fine, but what to do in A and E and D? I am still trying to puzzle that out.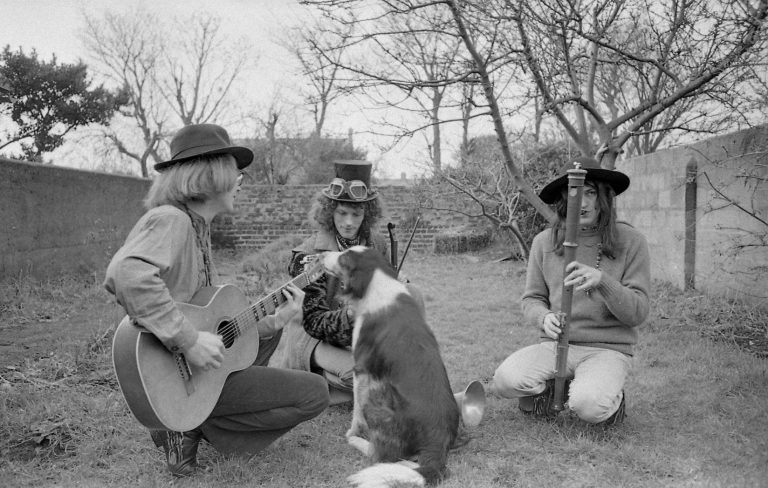 You were very atypical band for the music scene in Dublin at the time – how was the band accepted by the audience?
Tim Booth: Gigs outside the capital were largely met with incomprehension or requests for some familiar material. Even in Dublin, it could be tough. One 1968 appearance was at The Embankment in Dublin, a regular gig for The Dubliners. The audience were completely open-mouthed. They didn't dislike it; they just didn't know what was happening. There was an American tourist sitting below me. He kept telling me to get my hair cut. Sean, who ran the place, had said he wanted to fill the place with people having a good time and hearing songs they knew. Then we got up and it was totally unfamiliar. Another time we were playing in a Dublin pub and an old woman came up and put her hand over my guitar strings and said 'Why don't you play something we bloody know?' I suppose they thought we weren't doing songs like The Holy Ground because we couldn't, but we could if we wanted.
Ivan Pawle: We played folk clubs rather than beat clubs because we were acoustic rather than electric, although our repertoire only contained snatches of folk material. It was music for sitting down, rather than music for dancing.
Both Phil Lynott and Gary Moore were friends of yours in the Dublin days – tell us more about those connections.
Ivan Pawle: Phil used to visit our shared house, the Mount Street Orphanage when he was still at school. By early 1966 he was a frequent presence, sometimes with his friends Frank Murray (later manager of The Pogues) and Paul Scully (later sound engineer for the Pogues and producer of our third album in 1997).
Paul Scully remembers going round to Mount Street with Phil around Christmas 1965 and being asked to be quiet, as Robin Williamson (Incredible String Band) was meditating upstairs. He'd never heard of meditation. When Robin eventually emerged, he played "Phil October Song", which he had just written. After this, I remember young Phil singing a song for Robin, one he had freshly composed, called "Death Of A Faun". Very unlike Thin Lizzy!
Tim Goulding: We kept an almost fatherly eye on Phil. He would have been attracted to us hippies as we were 'Artistic cool' rather than 'Street cool.' Also we had connections in the art world.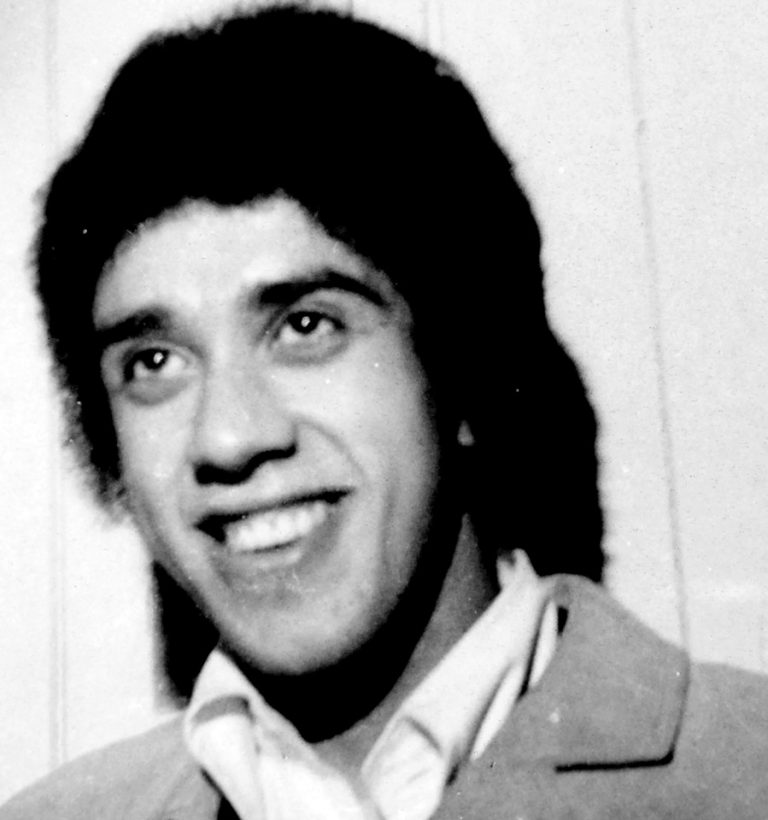 Tim Booth: When Gary Moore moved to Dublin, Phil Lynott rapidly ensured that he was adopted by us. I was in The Bailey, Dublin's then trendiest bar, when I became aware of this skinny boy from Belfast sitting by my side, dark hair falling over his eyes, a few pimples, nervous, shy and a bit twitchy, his left hand making shapes on an invisible guitar, a brown corduroy coat too tight across the shoulders. Philip said: 'This is Gary, man, our new guitar player, needs a place to crash…'.
When Gary was not out and about working, he would augment the Strangelies, sometimes on guitar, other times, mandolin or fiddle, even banjo – he could play very passable bluegrass on any of these – and once he brought a sitar back, there was no holding us. We never used one subsequently, but we allowed Gary sit in with it in our regular gigs in Slatterys bar for the added hippy cachet.
Other times Gary would arrive back with either some new album he was into, or – because he had a phenomenal memory – he would take his guitar and play us something he thought we ought to know about, perhaps a new Zappa offering, and he could not only do all the guitar parts but the voices as well and remember all the stage announcements and laughter would split the seams of the house. The 1968 Spirit album, The Family That Plays Together, was the first LP he owned and a particular favourite.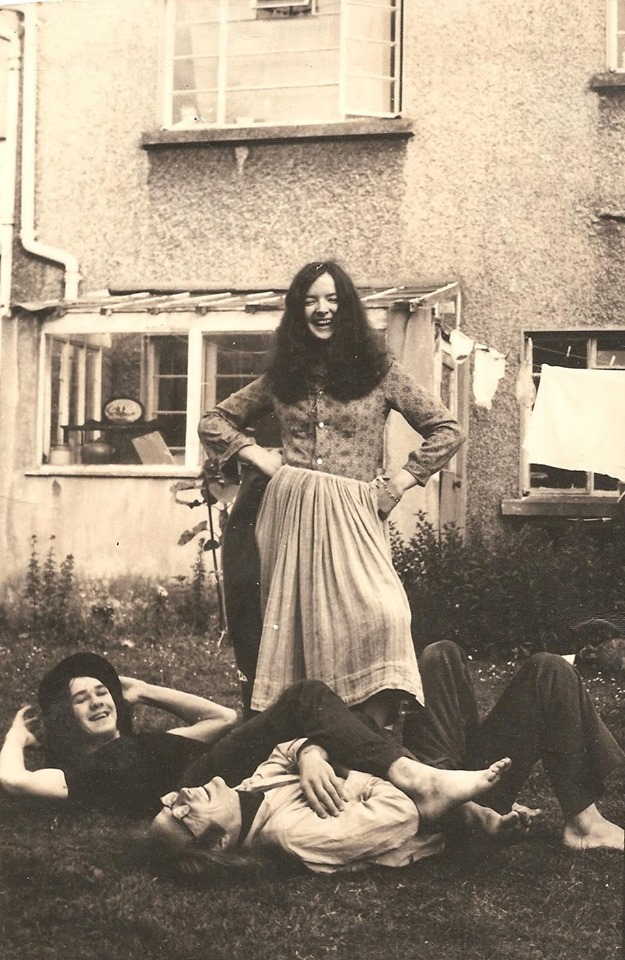 How did you get in touch with Joe Boyd, who produced your first album, Kip Of The Serenes?
Booth: Joe was already producing the ISB, so Robin Williamson and our friend Anthea Joseph eventually prevailed on him to come over to Ireland and see us live, opening for Skid Row in Carlow, near Dublin, in March 1968.
Skid Row was pre-Gary Moore, and still had Phil Lynott as lead singer. They played through Marshall amps at white noise volume, prancing around the stage like stallions. The gig was in the Town Hall, and for some reason the three of us sat on a school bench, all in a row like the wise monkeys (the other bands were rock bands, man, and stood). We played acoustically, singing into a single mic. We used Skid Row's PA and this flummoxed us as we had zero mic technique. Joe wasn't impressed enough to start brandishing contracts, but clearly saw some potential and eventually sent us a stalling letter. Eventually we went over to London in January 1969 to record the first LP.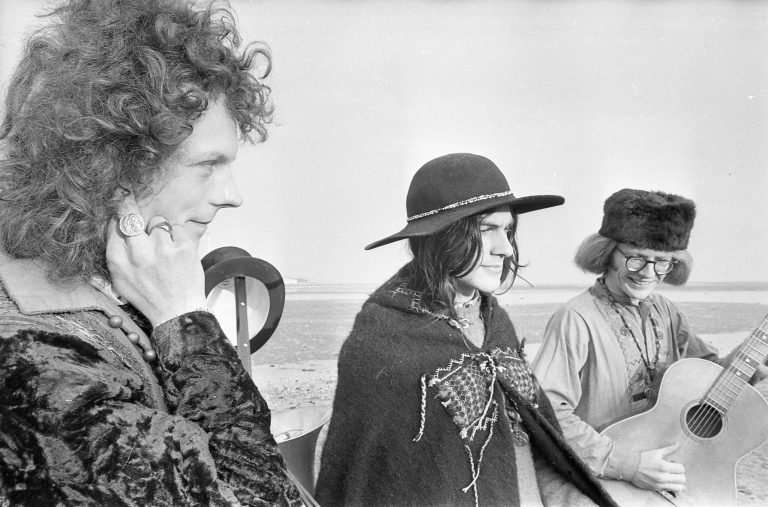 What about the Kip cover artwork? What's the story behind that?
Tim Goulding: The front cover photo of Kip was taken by my later wife, 'Orphan Annie' Mohan, in the Dargle Valley near my parents' house. Linus (Caroline Greville) was briefly in the line-up at that point, so she features in the photo (and on some of the LP) with the three of us.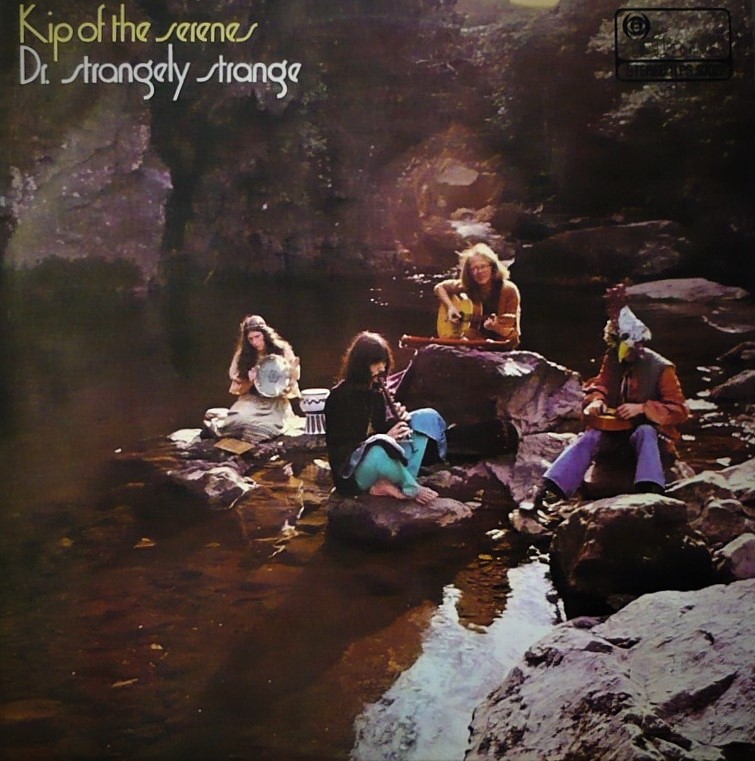 Tim Booth: I am wearing a weird chicken mask from a theatrical costumier's, partly to hide from my bank manager and partly because I was uninterested in publicity – that day at least. I provided a rear cover graphic featuring some of the characters and events in the songs, so the listener could while away stoned hours spotting them. That's Muircheartach (from Donnybrook Fair) on the horse, and the ship at the centre of the picture puzzlingly refers to the then unreleased song "HMS Avenger". The faces of the band appear floating in a cloud, top right.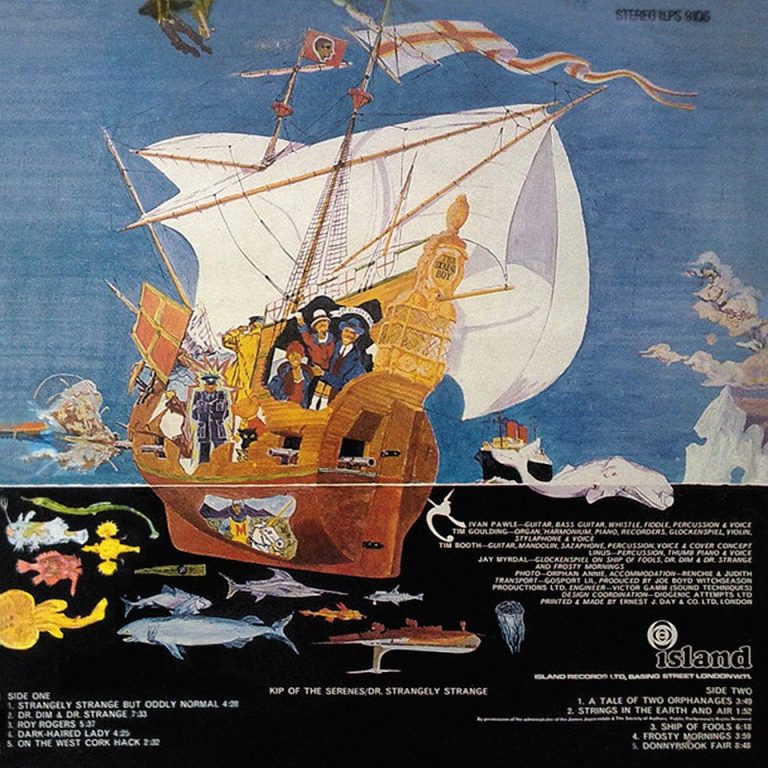 Adrian Whittaker: After Kip, the band's career took off a little, and they started gigging on the college circuit and elsewhere.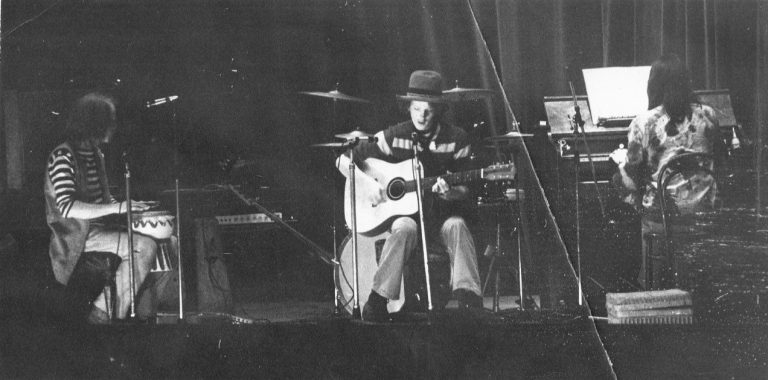 Adrian Whittaker: By 1970, the band were starting to look less like psych-folkies, more like some sort of prog variant… This is a photo by Jay Myrdal of them looking the part.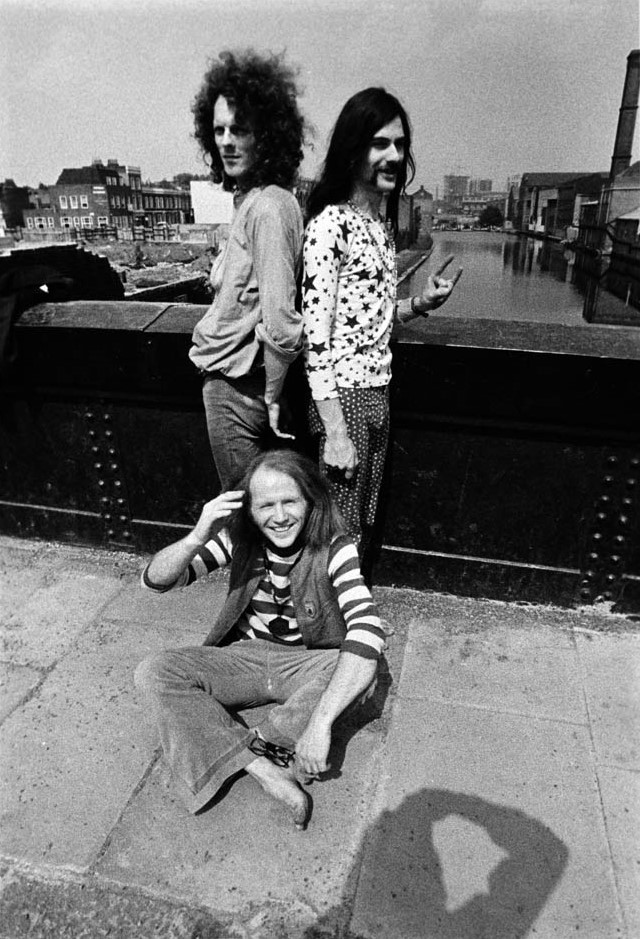 And then came Heavy Petting, for Vertigo. Another interesting cover…
Adrian Whittaker: Unlike the Kip sleeve, an in-house production, the band had virtually nothing to do with the new LP sleeve. Roger Dean provided Heavy Petting with what John Peel called an 'auto-destructive sleeve' with complex folding flaps, one of the reasons an undamaged vinyl copy is so valuable now. It initially came as a bit of a shock to the band, who had provided Vertigo with a batch of ingredients for the album artwork, including song lyrics, photos of them on the balcony of Goulding's family home, Dargle Cottage, and another set of them hiding in some bushes.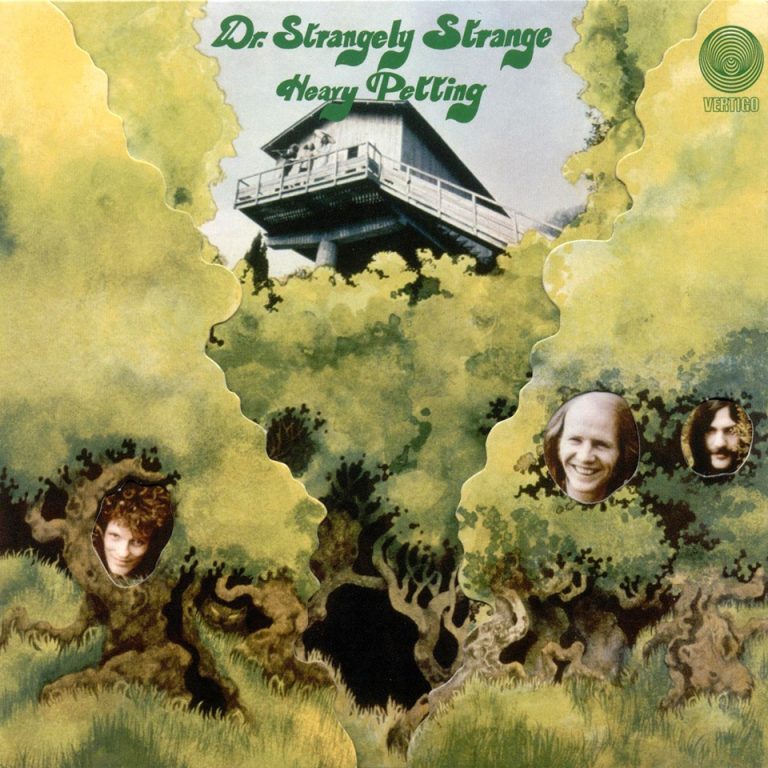 Tim Booth: We wanted a simple fold-out with lots of pics and Strangely notes and clear typography. I hated the cover from first sight. This piece did not work as a vinyl storage system – the stupid flaps tore off when you slid it into a rack of LPs. This was justified by use of the flaps as props to display the album in shop windows – a self-supporting system – other bands must have been so jealous… It would have been good to meet Roger and discuss concepts, but the Art Director at Vertigo knew best and we were kept apart most cruelly, I think.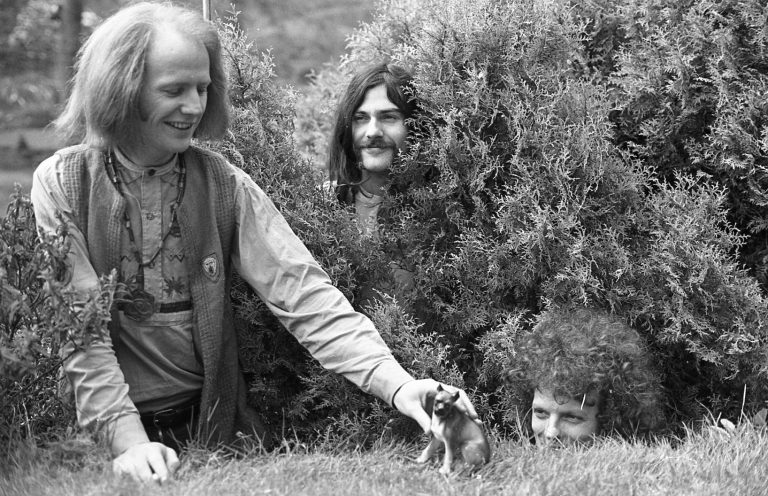 Adrian Whittaker: These days, Heavy Petting is one of Record Collector's 100 most collectable progressive albums; in theory, mint copies can fetch up to £1,000, though the usual rate looks to be around £300. It's now becoming one of those albums that is better known for its sleeve than the music contained on it.
Tim Goulding left the band to study in a monastery – what happened next?
Tim Goulding: My overriding reason for leaving was that I was no longer enjoying the lifestyle and longed for a quieter life in the country in West Cork. The long journeys in the Transit pounding up and down motorways were beginning to get to me. Although I did spend a month in the Tibetan Buddhist monastery at Samye Ling in Scotland, I came to the core realisation that I was called to progress my painting career.
Adrian Whittaker: Goulding's announcement sent the rest of the band into a tailspin. They had already recruited a drummer, Hoppy (Neil Hopwood), and the new line-up was really starting to gel. What's more, Irish and UK dates had already been booked for spring 1971 and an ambitious tour of northern Europe was at the planning stage.
Tim Booth: We were not ready to stop. We had done quite a few gigs with Terry and Gay Woods in the Neptune and other Dublin venues and knew them across the years, or thought we did. We decided – for reasons that now escape me – that they might fit in to our set-up.
Ivan Pawle: After we had started rehearsing with the Woods, I got a call – l think it was from Mike Heron – asking would l be interested in joining the ISB to replace Rose Simpson, who had left in December 1970. l was seriously torn, but the fact was that l had already agreed to the Terry and Gay arrangement. So that's what decided me. It was a difficult choice, one of the hardest decisions l have ever had to make. In retrospect it was probably the right choice.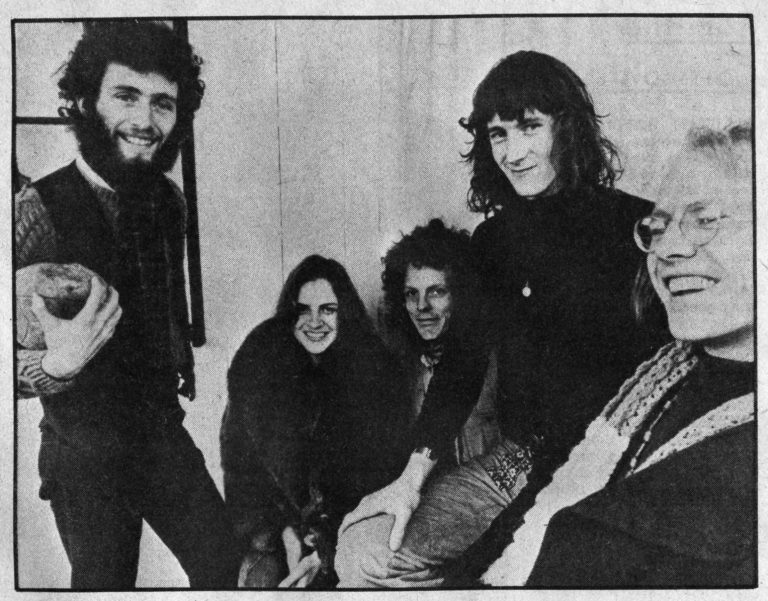 Tim Booth: We went on the road together and it occasionally worked. But it was – actually – way too much. Terry and Gay's marriage was breaking up, and this is the main reason Terry was drinking very heavily, I think. We did a big European tour, playing Holland, Belgium, Denmark and France, but we eventually decided to break up.
The original Strangelies, Tim, Ivan and myself, had an appreciation of each other's talents and musical abilities – or lack of them – and had great patience and empathy for each other. We became a creative Gestalt. Whenever we inducted another musician into the act – for recording or performance – they understood this process and respected it. The Woods simply did not, so the fusion of the two units was doomed to fail. A pity, as they went on to make some very good music. As did we.
We reformed in 1972, adding fiddler and mandolin-player Joe Thoma in 1980, and have done very occasional gigs ever since – and we made a 1997 CD for Ace Records called Alternative Medicine, which Gary Moore guested on.
Is there any unreleased material?
Adrian Whittaker: No. It all came out on the Hux CD Halcyon Days, which was a collection of previously unreleased recordings made at Sound Techniques studio in 1969-70.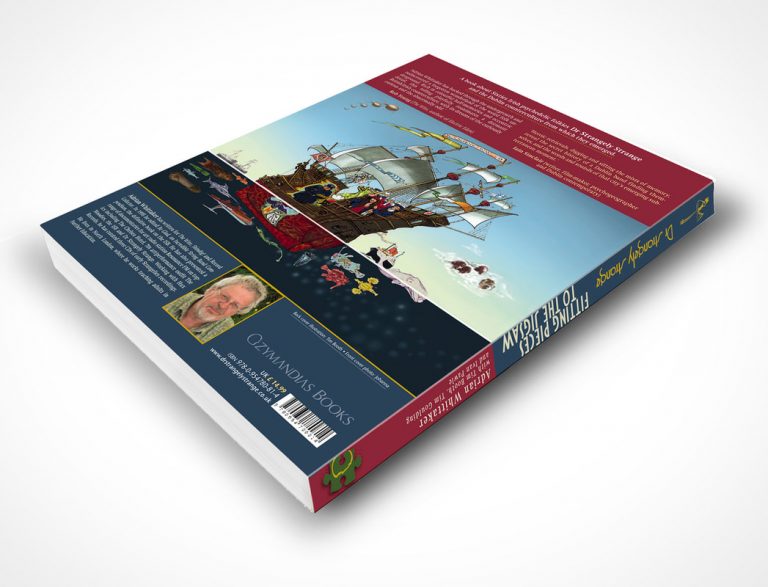 What currently occupies your life? Any future projects we should expect?
Ivan Pawle: Since the heyday of the band, both Tims have been doing a great deal of visual art – all to be seen on their respective websites… Goulding has been recording recently with Terry Woods. I have played around various pubs over the years, and, up to my retirement, l worked for a wholefoods company. I have since been working away at the songwriting, but not yet much product to show for it!
We plan to do a couple more Irish gigs with Joe Thoma, the new boy, in autumn 2019 – probably one in Cork City, the other in Clonakilty. We are also keen to some more recording – down at Tim Goulding's Sweet Ticket Music Studio. We hope to do an EP of new songs, and to compile a Best Of… CD, maybe including a few new tracks or re-recorded old songs.
The other project is a Dr Strange Calendar for 2020. This would probably involve some of our poster art, not some scantily-clad members of the band.
Thank you for taking your time. Last word is yours.
All: Keep your eyes peeled, nerves steeled…
http://drstrangelystrange.co.uk
Available post-free, world-wide from Wordery
The author:
Adrian Whittaker has written for The Wire, Shindig! and Record Collector. In 2003 he edited Be Glad, an Incredible String Band Compendium, the definitive book on the ISB. He has also presented a range of documentaries for art radio station Resonance FM on topics including The Chelsea Hotel, 70s art/performance outfit The Moodies, the ISB and Dr Strangely Strange.
Working with Hux Records, he has curated three CDs of early Strangelies recordings. He lives in North London, where he works teaching adults in Further Education.
Psychedelic Baby 16-06-2019