Blackberries are a psychedelic four-piece from Germany. The band grew from the seeds of early Motown records, mid-60's pop groups, psychedelic rock and German-based 'krautrock'. They are fusing these influences with their own vision.
Who's in Blackberries and what do you all play? Have you all made any changes to the lineup since you started or is this the original lineup?
Julian: We're a four piece band consisting of guitar & vocals (Julian), bass (Janis), keys (Joscha) and drums (Thomas). I've founded the band in 2007 with two friends who are not in the band anymore but the line up we have now has evolved over the years. Janis already joined in 2008 and we've added Joscha on keyboards some time after our debut record Music For The Night which came out in 2012. Thomas is the new boy – he joined us last year and we're very happy to have him in the band.
What does the name "Blackberries" refer to in the context of the band name?
Julian: There's no big story behind our name. Actually we were just sitting around in our rehearsal room in 2007 and thought of band names. Our bass player at the time was eating a blueberry yogurt while we discussed it and so the name Blueberries came up. Then we changed it to Blackberries after we've found out that there already were a couple of Blueberries around on myspace which was the thing at the time. True but rather boring story.
Can you share some further details how your latest album Disturbia was recorded and released?
Julian: For our 2016 record Greenwich Mean Time we really toured a lot through Germany and played festivals in such divers places as China, Canada, Estonia and the USA. In between all these shows we were writing new songs which reflected our views on the world. Also through all these live shows we were getting better as a band. With that energy we went into the recording process. While we played in Austin, Texas we were invited into the Ice Cream Factory Studios to record a live session which came out as The Texas Tapes and preceded the album. We were very happy with the sound of The Texas Tapes and asked Matt Parmenter, the producer with whom we recorded there, to mix the new record which was already completely recorded by that time. He agreed to do it and did a wonderful job on it. We worked with Unique Records for quite some time at that point and we were happy that they were also interested in releasing Disturbia and going the next chapter together with us.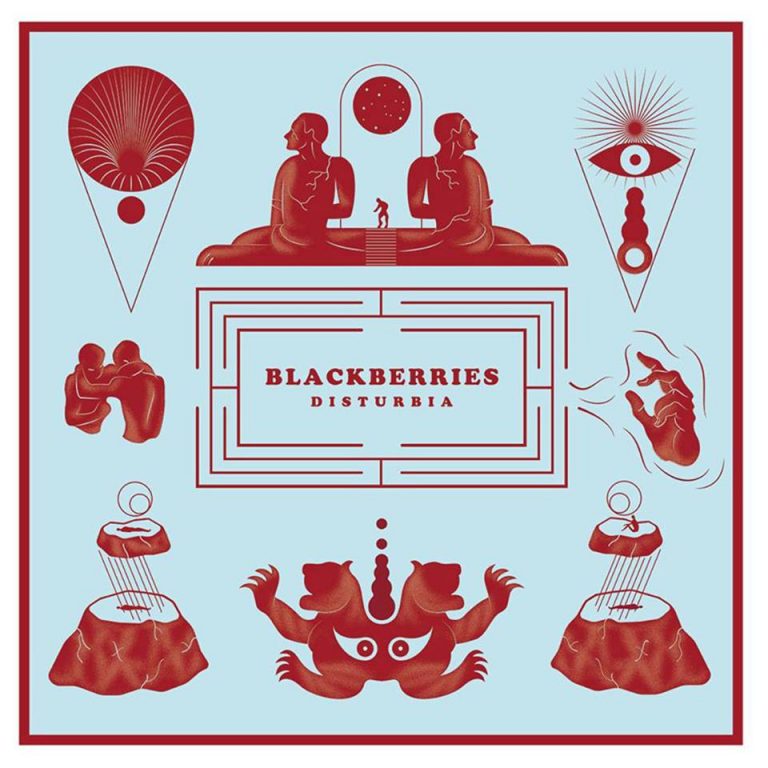 You've been active for several years now. Music For The Night and Greenwich Mean Time are your previous releases. How would you compare them to your latest release?
Julian: As a band we never stood still or tied us down to a narrow genre. One important element for us was and is catchy songwriting which is present in all of our work. The songs on Music For The Night which came out in 2012 were still influenced by indie music and dancy rhythms. When that record came out the songs were already a couple of years old and we were quickly moving into other directions. I was writing more experimental, psychedelic songs and at the same time when we were jamming we often played motoric, hypnotic rhythms which went away from the more precise songs on Music For The Night. So the psychedelic music of Greenwich Mean Time was a very organic development for us although it probably looked kinda abrupt on the outside. On that record we crossed our love for catchy melodies with our desire to experiment and stretch out. Disturbia was a natural evolution from Greenwich Mean Time – we knew better what we wanted, which sounds we wanted to use and we were just more experienced as a band. Also the lyrical themes grew darker as I was writing more about social and political themes. Actually we're already working on new songs for our next record which will show a couple of new sides, too.
What would you say influenced you the most? Have influences changed during the years?
Julian: There are always new influences coming up. Musical as well as the stuff that goes on around you. The first band I have ever really listened to were the Beatles. I was listening to them almost exclusively for a couple of years which shaped my ear for melodies as well as my interest in experimenting and not always going the easiest path. Their music was almost always catchy but a lot of the time very challenging and extremely divers, too. Growing up with that music really helped me to develop a broad musical taste because it opened doors in many directions. I went further backwards and discovered their roots – early Rock'n'Roll like Little Richard, Chuck Berry, Elvis, Buddy Holly and Carl Perkins. Then I checked out other Mersey Beat bands like Gerry & The Pacemakers or Billy J. Kramer & The Dakotas, got into the Rolling Stones, Kinks or The Who and discovered The Hollies which were and are also a major influence of mine. From there on it went in many different directions – all those bands had many different phases, too – they evolved from early Beat and Rhythm & Blues acts to Brit Pop, Folk Rock, Psychedelia and Heavy Rock. This showed me that it is possible to move forward, try yourself out and feel at home in different styles while still retaining your own musical identity. I still love all those bands but over the years we all discovered many new bands and styles. At the moment I'm listening to a lot of World Music – from Asian classical music, to African rhythmic styles or Arabian almost psychedelic music. I've also gotten into '50s and '60s jazz quite a bit while at the same time checking out German singers like Hildegard Knef. And apart from all this stuff we're of course also listening to a lot of new music that happens right around us.
What's the songwriting process like?
Julian: We have more or less three approaches which work really well and give us different options and angles – the first one is that I'm writing songs and present them to the band and we arrange them together. Joscha is also composing – he writes music but leaves out the words and the vocal melody which I then add later. "Snow White Tiger" on the last record is an example where he gave me the musical backing track which was more or less exactly arranged like we have later recorded in on Disturbia. On the new record there'll also be a couple of song composed like that. The third option is that we jam together and extract ideas out of it. This way you can get the farthest away from classical songwriting which can also produce very interesting and challenging results.
Who are some of your personal favourite bands that you've had a chance to play with over the past few years?
Julian: We've played together with lot's of great bands over the years and made many new friends. Outside of our hometown we almost never experienced envy or jealousy but a great deal of helpfulness and community. Acts like Love Machine, Fooks Nihil, Okta Logue, Suzan Köcher, The Manana People, Sea Moya or Wucan are all part of a musical family. Other great bands with whom we have joined the stage are The Sonic Dawn and The Dawn Brothers. With my other band Palace Fever I have opened one time for Ron Sexsmith and another time for The Sonics which both were probably the most important supports as far as legends go as I have been a fan of both acts for quite some time. So it was really nice to share the stage with them.
In your dreams, who are you on tour with?
Julian: This is hard to answer – of course it would be pretty cool to open up for a legend like Paul McCartney or the Rolling Stones. In the real world it's the most fun when you are on tour with friendly people who have the same passion for music as you have yourself. So we'd go on tour with any of the above mentioned bands anytime. But since everyone has their own plans and timetables we only get together once in a while which makes it all the more special.
What are some future plans?
Julian: It's always fun to write and record new music – apart from playing live that is what keeps a band alive. We already have enough material for the next record and we're rehearsing and arranging the new songs at the moment. It would be great to release the follow up to Disturbia pretty soon – we'll see how it goes. In reality everything takes longer than you plan so who knows. We're also having some nice shows coming up – in the summer we'll be playing Burg Herzberg Festival alongside a legend like Graham Nash and a lot of our friends like Love Machine, The Sonic Dawn and Sir Robin & The Longbowmen.
Let's end this interview with some of your favourite albums. Have you found something new lately you would like to recommend to our readers?
Julian: If you haven't done so already, go check out the wonderful new records by The Sonic Dawn and Kikagaku Moyo. One of my personal all time favourite records that isn't that well know is Distant Light by the Hollies and you should have a listen to Knef (1970) by Hildegard Knef – German chanson with psychedelic influences and brilliant lyrics. One of my favourite jazz records is East Meets West by oud-player Ahmed Abdul-Malik where he crosses oriental music with (for the time) modern jazz. Another fascinating and versatile musician is Czeslaw Niemen who was a big star in the 60s and 70s in Poland. He recorded some of my favourite records which cover a huge range of music. He's a great and incredibly powerful singer but the one record that totally blew my mind is his almost completely instrumental and synth based 1975 record Katharsis. He goes much further than the German electronic Kraut pioneers went and to me that album sounds like nothing else I have heard before. Two of his other essential records are the '60s soul album Sukces and his early '70s proggy masterpiece Enigmatic. And if you like our music you should also check out Suzan Köcher – I play guitar in her band and produced her debut album Moon Bordeaux. The first single of the upcoming album just came out and is called "Peaky Blinders".
Thank you. The last word is yours.
Julian: Thank you for taking the time and hope to see you all sometime along the road.
Psychedelic Baby 19-06-2019