The Cure celebrate 40 years as a live band in new Tim Pope-directed film.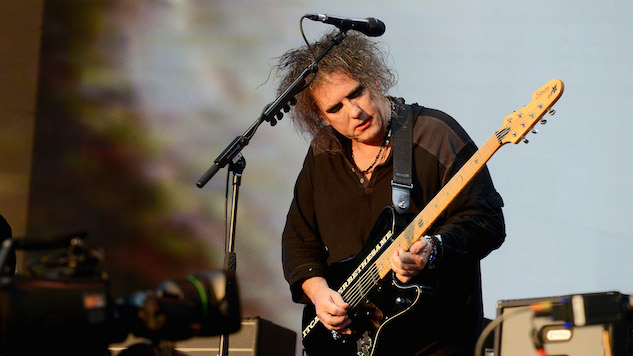 Live concert films are a tricky balance. As a filmmaker, how do you create something that doesn't distort the experience of audience members who were in attendance? A film can never capture all the details, even if it's not meant to be a replacement for the real thing. Filmmakers are also tasked with creating something that compels viewers to sit and watch an entire show instead of listening to a studio recording or buying tickets to see the artist live, which can be a steep ask. Watching a concert film in a packed movie theater is also a bit strange. Are you supposed to clap after each song and sing the words, or should you just sit in silence, hypnotized by the music pounding against your eardrums and high-definition visuals pressed right in front of your face?
Like any director, Tim Pope already had a lot on his plate, but he may have had an additional lump in his throat while working to create a film celebrating 40 years of live performances from one of the greatest, most influential bands in history. 2019 marked four incredible decades of The Cure's live concerts, and it also marked 30 years since the release of their gothic masterpiece Disintegration. The English group, headed by the wistful, wispy-haired Robert Smith, were finally inducted into the Rock and Roll Hall of Fame earlier this year, and they decided to tap Pope, who filmed dozens of their most famous music videos and their award-winning 1986 concert film In Orange, to capture yet another chapter of their legacy.
On July 9, 1978, The Cure performed their first gig in a small English pub called The Rocket to a few dozen people. On July 7, 2018, just about 40 years since their live debut, they played an outdoor show in London's Hyde Park in front of 65,000 people, and Pope captures that sprawling two-hour plus event in his new film The Cure – Anniversary 1978-2018 Live in Hyde Park London. The film debuted Thursday (July 11) in cinemas across North America for one night only, and it felt like the official bestowing of immortal status on a band that bewilderingly remains in their prime. Smith, Pope and sound man Paul Corkett worked together to preserve the atmospheric sheen of this live recording, which was mixed at Brighton Electric Studios, mastered at Abbey Road and accompanied by Pope's 4K visuals.
There was no cliché backstage footage or overly dramatic stage walk-on to open the film. It simply begins with an upstage shot of Smith, bassist Simon Gallup, keyboard player Roger O'Donnell, drummer Jason Cooper and guitarist Reeves Gabrels, already in place. The stage had a familiar Hyde Park concert setup, marked by massive trees on either side and greenery covering the top of the gigantic structure. It's almost as if the viewer has awoken from a deep slumber in the woods, and they're instantly met with The Cure's dark squalls of passion and heartbreak.
The five-piece, dressed in all black, was met with the perfectly golden setting sun at the show's start, but after a 29-song, 135-minute set, the show closed in the darkest shades of night. The simple setting would've been enough for The Cure, but video adornments featuring pastel-colored clouds, sinister spider webs and cartoon hearts added some additional texture to their somber allure.
As usual, the lanky, tank-top-donning Gallup was the only member who made full use of the stage, hopping around with his neon-pink, low-hanging bass guitar and playfully leaning against Smith and Gabrels. But he wasn't the only one in high spirits. Smith was outwardly affectionate, focused and humble, and when he returned to the stage for a 10-song encore, he was especially warm—maybe it was the onset of darkness that brought him joy or perhaps it was the realization that after more than an hour, this huge crowd really loves The Cure. A fellow movie-goer bemoaned, "Oh god, here come the hand movements" when Smith started to wiggle his arms to the slow-crawling grooves and hug his own makeup-covered face. But it's moments like these when you can tell he's deeply in tune with the spirit of each and every song.
Pope captures the intimacy of each member's performance—be it Gabrels' calm strumming, Cooper's sweaty pounding or O'Donnell's wry countenance. You also get a feel for small details like Cooper's impeccably poofed hair, which somehow withstood the vigorous drumming, and Smith's Schecter guitar, which displayed the dates 1978-2018 and the powerful slogan "Citizens, Not Subjects."
The lack of intimate crowd footage is a bit of a bummer, but it also gives off the distinct impression that the crowd is one big animal, operating in harmony as they sing along and wave their arms en masse. But there are still plenty of interactive moments to savor in this film. Leave it to a group of diehard English fans to not just sing the lyrics, but chant the melodies of guitar riffs and bass lines too. The crowd vocalized the closing bass line to live favorite "A Forest," which left a cheeky grin on Gallup's face. Then they joined Smith in shouting "No, no, no!" on "Push," from 1985's The Head on The Door, another affecting moment.
They were able to cater to both casual listeners and obsessive fans with a setlist this extensive. "Pictures of You" and "Love Song" come on early to get things moving, lending them freedom to dive into deep cuts like 1987's "If Only Tonight We Could Sleep" and 1985's "A Night Like This." "Shake Dog Shake" was another surprising show-stopper, and Pope's cameras noticeably shook, which might've been a cheesy move, but it nicely emphasized the song's inner turmoil. The biggest portion of the set came from their finest LP Disintegration, and songs like "Fascination Street" and the title track portrayed the meticulous sonics and gloomy motifs that inhabit the classic album.
Everything about the show felt like a masterclass. There were no fireworks, no special guests or gimmicky frills. Near the end, Smith tells the audience, "If you'd asked me in The Rocket what I'd be doing in 40 years, I would have got the answer very wrong. But it's thanks to everyone around me, and to you all as well that I'm still here. So thank you very much! It's been a good four decades. Here's to the next one!"
It's analogous to a basketball superstar putting on a clutch, career-defining performance to win the NBA Championship, but instead of celebrating like a king, he simply high-fives his teammates, walks off the court and goes home.
Smith's billowy voice miraculously hasn't aged a day. With each word, you could feel his utter dejection, heartfelt lust and theatrical sulk, and it was impossible not to fall under his spell. The Cure place their weighty goth-pop, anthemic alternative rock and dexterous post-punk at the center of every moment of the show, providing onlookers with a tunnel down the rabbit hole of their inky soundscapes. It's no wonder people gush over this band's famously long shows. After all, there were reports that guitar sales had spiked as a result of their headline slot at this year's Glastonbury Festival. This isn't a band trying to relive their glory days or just plodding through in hopes that the crowd can forgive their age. This is a band still firmly in their prime.
Paste Magazine 12-07-2019