Four new CDs that constitute the next phase of releases as put out by the Artist Approved label with the full blessing of the group members. Whereas in the first set of four CDs covered here in 2018 one or two original Manfreds alumni helped contribute towards the text with various recollections and photographic images, here we have instead the thoughts of Greg Russo, biographer on "Mannerisms: the Five Faces of Manfred Mann". Through the diverse music selections on offer, the various line-ups of the group as recorded from October 1964 through to November 1973, help to give us a truly superb insight into just what the Manfreds were capable of beyond the, for the most part, familiar two-and-a-half-minute or so, much more commercially-slanted single sides and too their, admittedly, fine album tracks that were issued throughout the mid-to-late sixties and beyond.
Each title here is also rife with a series of short, often witty interview asides conducted by the BBC's Brian Matthew, usually just as the group were about to go, or had just returned from, one of the many trips they took playing concerts across Europe and America during their time as a successful early days R&B rock group. The group can be heard across these one hundred and fifty or so selections, many not heard outside the group's staunchest acolytes, letting their creative juices flow, and their collective hair down as they get stuck in about some great beat, earthy R&B and soul-imbued material, including (from the time of bass legend Jack Bruce's brief tenure as a Manfred) 'Long Hair, Unsquare Dude Called Jack', one from the Kim Fowley stable of odd… plus they also come up trumps on a number of provocative pop-oriented items too, yet, here and there, the group can also be heard frittering away some of their time on one or two more, let's say, light-hearted offerings.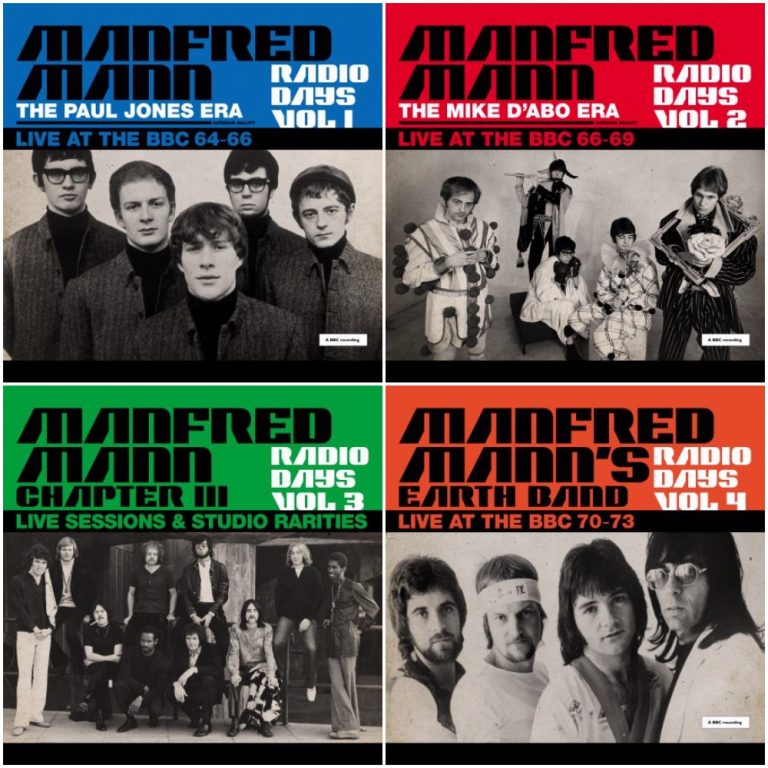 Later on they can also be heard focusing on more progressive-sounding material as befits the era, and finally there is also some expeditionary work that sees them breaking into the fully-formed hard rock and blues rock arena as the seventies begins to really get under way, with varying degrees of success. But whoa dad we're getting way ahead of ourselves before we even get started.
The group are really on fire whether pumping out a series of gritty R&B and beat numbers, or on a slew of articulate and classy numbers which can be considered more pop-flavoured, with a dash of soul here and there. I don't know, but there's just something about the Manfreds – especially so the early period – where even their more pop influenced material is, in their more than capable hands, more often than not highly engaging to listen to. There are many standout cuts to be heard across the board from great versions of 'What Am I To Do', plus the Everlys' fave 'When Will I Be Loved', and they succeed with what is quite an astonishingly strange rendition of the Yardbirds 'Still I'm Sad', and also particularly cool originals such as 'You Better Be Sure' and, again, the great, somewhat pivotal 'Spirit Feel' which was a feature of the first Artist Approved Manfreds series. And there's also a compelling, indeed totally pulverising take of their exceptional '66 beat/garage cruncher 'Tired Of Trying, Bored With Lying, Scared Of Dying', one of this writer's personal favourite original Manfreds kicks!
And when lead vocalist and harmonica lynchpin, kingpin Paul Jones decided to flee the coop, it's fortunate that they lucked in with a more than adequate replacement and so we are treated to the not inconsiderable vocal talents of Jones' successor, from the Band Of Angels, Mike D'Abo. And it is he who helps take us on into the group's next phase via the likes of 'So Long Dad', 'Fox On The Run' and the group's continuing Dylan worship through 'Just Like A Woman'; sometimes the arrangements around this time and beyond tend to get a little quirky, and a little bit kooky too but, on the whole, the songs are still marvellously creative and interesting as many progressively-thinking beat-era and beyond groups could be.
The group gets ever more experimental and loose too during such as Chapter III's 'Jump Before You Think' and 'Excited To Death'… and by the time of 'Tombstone Revelation' Manfred is beginning to demonstrate his overarching leadership of the group. And on the final installment entitled "Manfred Mann's Earth Band Live At the BBC 70-73" the ensemble are a changed entity, strolling on into heavier, rockier terrain, albeit some of which is, unfortunately, rather too much on the stodgy side of rock for this listener's tastes, not all of it, for sure, but some of it for definite.
But before all of that transpires there's a truckload of joy to be had from digging through their years as pioneering rock journeymen of the mid-to-late 1960s, so let's not waste any more time and instead get the discs spinning, turn on your music machine, turn up the volume and enjoy!
Radio Days Vol 1 The Paul Jones Era Live at the BBC 64-66
Radio Days Vol 2 The Mike D'Abo Era Live at the BBC 66-69
Radio Days Vol 3 Manfred Mann Chapter III Live Sessions & Studio Rarities
Radio Days Vol 4 Manfred Mann's Earth Band Live at the BBC 70-73
(Umbrella Music 2019 | Artist Approved)
Psychedelic Baby 16-07-2019