On Stars Are The Light, the band hooks up with Sonic Boom (late of Spacemen 3) to deliver an odd arrangement of songs with a nod to all things inspired by disco, though here, they are creating what I can only call psychedelic disco, based around controlled vocals that are soft and breathy, developed through a presentation of guitars that show a disinclination for physical exertion, being chilled and slow, along with being spirited on by a series of never ending tape loops.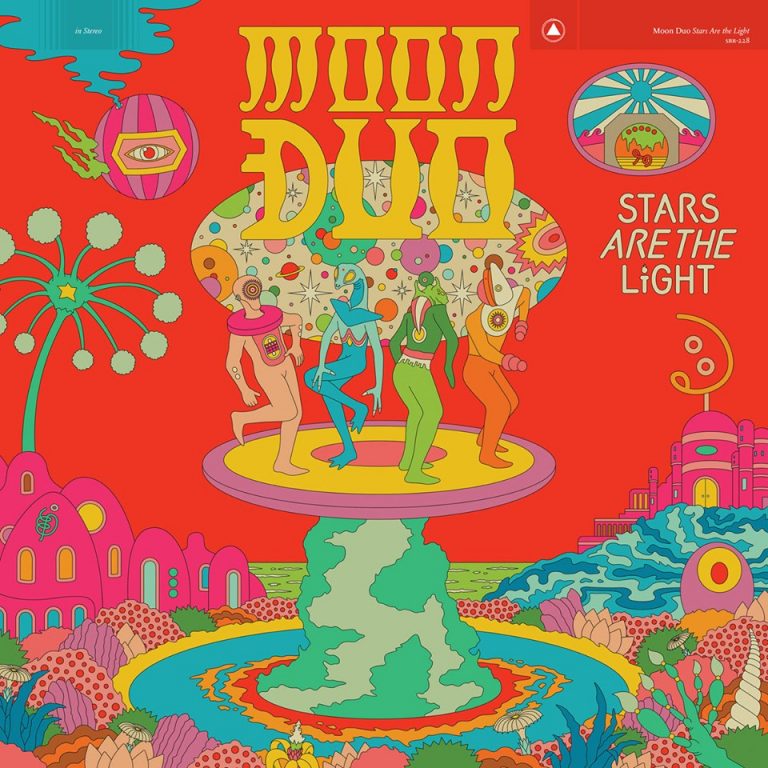 All this they claim is a method of connecting the body to the stars, where Sanae Yamada goes on to say, "Disco is dance music first and foremost, and we're digging our way into the idea of the endless dance of bodies in nature." The idea of 'bodies in nature' might suggest an organic sound, though with synth music, that's simply impossible. Nevertheless, Moon Duo are envisioning this release as a metaphysical embodiment of the terrestrial and not the extraterrestrial. The record features eight tracks that explore aspects of the human emotional experience: love, change misunderstanding, internal struggle, joy, misery, alienation, discord, harmony and celebration … though methinks this concept was made up after the fact, and not a preconceived direction. More than anything, Stars Are The Light comes off as a series of sugar coated synth infused dream-pop numbers that are bouncy bright and airy with vocals that are front and center, though with Moon Duo never sounding more shallow than they do here, holding nothing of value for me, where I was barely able to sit through a single listen. Now, that's not to say that if you're a fan of electronic funk and R&B infused dance music from the late 70's and early 80's that you won't be a fan, as Stars … is a step forward in that realm of sound, being delightfully intoxicating for those who are interested in traveling down and through that sonic pastoral soundscape; where the wide open spaces of nature are the dance floor, where the moon is the disco ball, and the stars are the strolling lights.
This time out, Moon Duo offer classic black coloured vinyl records featuring the same jacket artwork in four differing screen printed colours, all limited to a total of 350 hand number copies, but only one colour for the compact disc. The record label Dinked offers a 500 pressing edition on yellow vinyl, while another label offers a red vinyl record. Whichever of the four colour jackets you receive from Sacred Bones is completely random, the luck of the draw. And if that weren't enough for ya', The Sacred Bones Record Society offer up the ultimate collector's version, a hand numbered limited edition of 150 copies with yet a differing jacket (a wrap around sleeve) that has been wax sealed and plays out on blue vinyl, along with other small goodies to make you feel oh so special. All of this of course sparks me to think that Moon Duo are far more concerned with the collecting rather than the music, with the band of course encouraging you to collect them all.
Moon Duo have released five other formal albums, not including their remixes, and we all have our a favorite or two, though make no mistake about it, this is a hipster album, one most people will play a couple of times and then shelve forever. I considered purchasing one of these as an investment, but there are simply so many variations of these limited editions that it's all pointless, where so many limited editions make the record anything but.
Psychedelic Baby 19-07-2019