All four of the Neville Brothers were talented, but only two were geniuses: Aaron, the musclebound ex-con with the incongruously angelic high tenor, and Art, the keyboard master of push-and-pull syncopation. Art was the band's leader, and now he's gone. He died Monday at his home in New Orleans after years of declining health at age 81. He was the oldest of the quartet; Charles the saxophonist, a year younger, died last year; Cyril, singer and percussionist, and Aaron live on.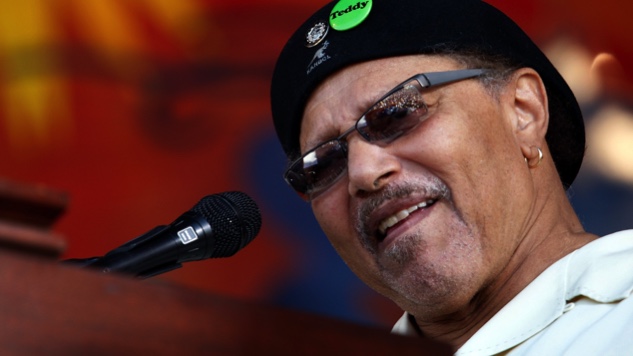 "Art is the honcho," Aaron told me in 1985. "He works out the arrangements and keeps us tight. We've come through a lot of stuff with each other, but we're men now. We all live in the same two blocks and see each other every day. We play together as a family, and that keeps us young. It's a good feeling to look at one of my brothers on stage and see all my ancestors in his face."
"I'm the big brother," Art told me in 1994. "I didn't ask to be; I just am. You have to agree you're going to disagree sometimes, but you can't let ego and foolish pride break up a family, and I don't intend for that to ever happen."
Art was the leader of every band he was in; he had that kind of personality and the musical chops to back it up. Whether playing Professor Longhair's second-line rhythms on the piano or New Orleans church swells and Jimmy Smith jazz riffs on the organ, Art had a way of putting his own stamp on the sound and establishing that sound as the basis for everything else that happened on stage. Cyril talked a lot more at shows, but it was obvious that Art was directing traffic.
Even at age 17, he took charge of a teenage band called the Hawketts and sang lead on their one claim to fame, a 1954 single called "Mardi Gras Mambo," a tune so infectious that you still hear it all over New Orleans 65 carnival seasons later. After recording some solo singles, he formed Art Neville & the Neville Sounds, a band that included Aaron, Cyril, bassist George Porter Jr., guitarist Leo Nocentelli, drummer Joseph "Zigaboo" Modeliste and saxophonist Gary Brown. Their weekly mid-'60s shows in the French Quarter were legendary.
"I was playing on Bourbon Street at the Bayou Room," Jimmy Buffett told me in 1989, "and Art and Aaron were down the street at the Ivanhoe. So we go back a long way. But once you get attached to the Neville Brothers music, you never let go of it."
Producer and songwriter Allen Toussaint was so impressed that he hired Art, George, Leo and Zigaboo as the house band at Sea Saint Studio, where they played on Toussaint's productions of LaBelle, Robert Palmer, Lee Dorsey, Dr. John and many more. Toussaint had them record their own music as the Meters, an instrumental quartet so funky that people are still sampling their records today. They were the Louisiana equivalent of Booker T. & the MGs, and like Booker T. Jones, Art led the band from the organ bench. Little Feat based their original concept on the Meters.
Cyril joined the Meters in its later phase, and Aaron and Charles joined that line-up for a special 1976 project led by the Neville brothers' uncle George "Jolly" Landry, the big chief of the Wild Tchoupitoulas, a Mardi Gras Indian tribe. This old New Orleans tradition has African-Americans creating elaborately beaded and feathered Indian costumes and parading through the cities streets on Mardi Gras Day and St. Joseph's Day to see which tribe could intimidate all the others.
As they paraded, they would bang and rattle percussion instruments and sing call-and-response chants such as "Iko Iko," "Brother John" and "Hey Pocky Way." Art had the idea of giving those chants vocal harmonies from the Neville Brothers and instrumental backing from the Meters. The result was one of the greatest New Orleans albums of all time, Wild Tchoupitoulas, and its critical triumph convinced the Neville Brothers to commit themselves to the family band.
They released two underappreciated studio albums in 1978 and 1981, but their live gigs quickly became the must-see show in New Orleans. When they released the thrilling album, 1984's Nevillization: Live at Tipitina's, on the small Louisiana label Black Top, the rest of the world got the message.
"I like to play the funky stuff," Art told me. "Charles is the avant-garde jazzman. Aaron sings the pretty songs, because he has the voice. Cyril is the fire. That variety is what makes us different. If we didn't have that, we'd sound like every other band on the radio."
But they could never capture the excitement of their live shows in the studio. Their best studio effort—both artistically and commercially—was 1989's Yellow Moon, which deliberately departed from their bristling, maximalist stage sound for producer Daniel Lanois's cooler, minimalist sound. It worked, because Lanois insisted on better-than-usual songwriting and because Aaron turned in some of his best vocals ever. But it didn't solve the problem of translating their concert experience to a marketable recording.
"We haven't had the major hit we wanted," Art said, "though we're still drawing at the box office. We've tried different studios and different recording techniques, but it's difficult to get the sound we get on stage. That sound is a communication both within the band and between the band and the audience. It's a happy, free energy. They're songs you can think about and dance to at the same time."
The best way to experience the Neville Brothers was on stage at their peak. That option no longer exists, but you can get close to it on such albums as Wild Tchoupitoulas, Yellow Moon and especially the two volumes of Nevillization. Rhino Records also provides a smartly curated trio of anthologies under the name Treacherous.
In the end, it was Aaron's solo recordings—such as "Everybody Plays the Fool," "Somewhere Somebody" and "The Grand Tour"—that gave the family its biggest hits. That brought the larger band a new audience and new tensions.
"I love to play with Aaron," Art insisted. "Aaron's success has helped the Neville Brothers to the max; it opened a whole new corridor to us. The audience has a different face than it did before; I see older people who wouldn't have listened to the Neville Brothers if they hadn't heard Aaron sing. and I love to hear him sing. It's like hearing my mother and father sing."
To keep himself busy while Aaron was doing solo tours, Art resurrected his old band and renamed it the Funky Meters, featuring George Porter Jr., for my money the best electric bassist of his generation. Usually Art would use former Neville Brothers guitarist Brian Stoltz, but occasionally he would lure Leo and Zigaboo from the West Coast for a reunion as the Original Meters. Both versions were remarkable ensembles and soon won a following from the growing jam-band audience.
"The Meters are more of a free-form thing," Art added, "off the top of our heads. In the middle of a song, we might pull a rabbit out of the hat and go into something else. I have fun doing that. I never thought the Meters would become so viable, but we have."
Every ensemble has its day, and for the Neville Brothers, it was the mid and late 1980s, when the septet was one of the best rock 'n' roll bands in the world. For years, they played the final set at the annual New Orleans Jazz & Heritage Festival, and it was always the triumphant climax the 10-day event deserved.
When the set reached it feverish peak, Art—in his afro, shades and muscle shirt—would bellow out "Fire on the Bayou" over his own steamy keyboards. The warning-cry lyrics, twitchy rhythm section and church harmonies seemed to evoke all the contradictions and promises of Louisiana: water and flames, beauty and destruction, hope and crisis, spirit and body. And driving it all was Art Neville. He can never be replaced.
Paste Magazine 23-07-2019