Formed in Stafford, England in 1967 by vocalist and harmonica player Colin Cooper, guitarist and vocalist Pete Haycock, guitarist Derek Holt, bassist and keyboardist Richard Jones, drummer George Newsome and keyboardist Arthur Wood, the band which came to prominence and commercial success in the mid-1970's as the Climax Blues Band, began life as the Climax Chicago Blues Band, and their first several albums stayed true to their name. Esoteric Records has compiled the group's first five albums in a clamshell box set, supplementing the albums' original 49 tunes with 18 bonus tracks, making this the definitive collection of the band during their earliest period.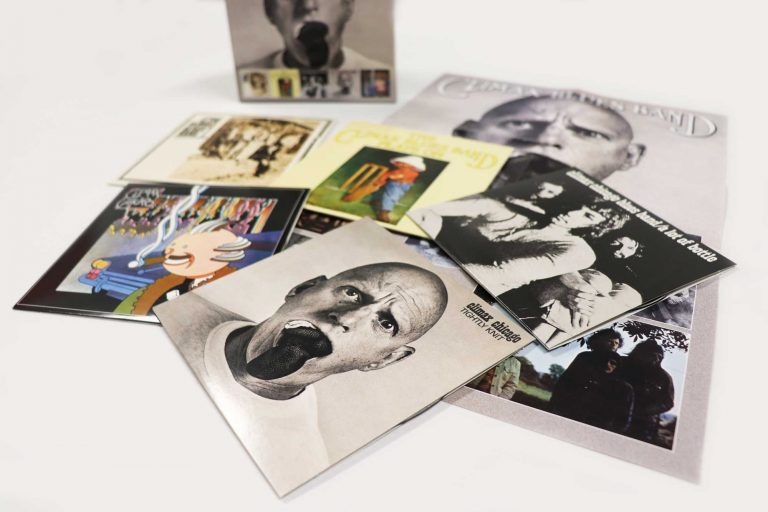 1969's 'The Climax Chicago Blues Band' is a twelve track mix of band originals and well known blues standards. The album opens with 'Mean Old World' somehow credited to the band, featuring Colin Cooper's mouth harp and wonderful slide guitar by Pete Haycock, whose solo takes center stage. 'Insurance' is a traditional Chicago electric blues style tune, with Haycock's guitar and Wood's piano to the fore. 'Going Down This Road' a band original carries on the traditional Chicago blues feel thanks to Haycock and Wood, who contributes piano and organ. Another band original 'You've Been Drinking' is a shuffle style blues number, with Cooper's vocals the center of attention and lead instrument. A fine cover of Sonny Boy Williamson's 'Don't Start Me To Talking' features Haycock's guitar leading the way to Cooper's inevitable mouth harp work which do the tune's writer justice. Side one of the album closes with the band's take on Big Joe Turner's blues shouter 'Wee Wee Baby' done gently,given a Canned Heat/John Mayall feel with lots of harp and acoustic guitars. Side two opens with the band original 'Twenty Past One' the band returning to its Chicago blues roots with Haycock's slide guitar and Wood's piano dominating the sound. 'A Stranger In Your Town' co-written by Cooper and Lee Hazelwood is another prime Chicago blues song led by Haycock's slide guitar, Cooper's mouth harp and Holt, Jones and Newsome locked into a groove, once again rendering a John Mayall vibe. A tasty cover of Howlin' Wolf's 'How Many More Years' features a piano intro, before Cooper's mouth harp joins in along with Wood's boogie woogie style piano. Band original 'Looking For My Baby' features an Elmore James inspired slide intro, with Wood's piano supplementing Haycock's fine slide guitar on the snappy number. The album's tour de force is the nearly nine-minute band original 'And Lonely' which features Wood's organ and harmonium intro and deeply echoed vocals by Cooper with Haycock's slide guitar just underneath before he begins a slow burn guitar solo at the two minute mark. Wood's celeste and Haycock's slide give the song a 'Loan Me A Dime' feel, with Haycock coming to dominate the tune's sound as Duane Allman did on Boz Scaggs' cover of the Fenton Robinson classic. This song alone is worth the price of the album as Haycock's slide guitar and Wood's organ drive the tune home in fine fashion. This is definitely CCBB at their best. The album ends with a cover of Scott Joplin's ragtime piano romp 'The Entertainer' a showcase for Wood's piano prowess on the fast paced closer. The original album's twelve tracks are joined by seven bonus tracks. A cover of Sonny Boy's 'Checking On My Baby' features Cooper's' vocals and mouth harp, as well as a tasty organ interlude by Wood and Haycock's gorgeous, deceptively heavy lead guitar. 'Arthur's Boogie' is a short and sweet boogie woogie piano number penned by Wood. An extended take on 'Mean Old World' this time credited to T-Bone Walker is true to the original with horns adding texture to Haycock's guitar, resulting in another slow burn blues tune. Take one of 'Don't Start Me To Talkin'' gives a taste of the band building a song in the studio. 'Anybody's Boogie' credited to the band is a fifty-six second boogie piano workout for Wood. Take one of 'You've Been Drinking' is longer than the master take and features additional piano. Disc one closes with the five and a half minute take five of 'And Lonely' much shorter than the finished tune, and is almost completely dominated by Haycock's slide guitar and Wood's organ, still rendering a 'Loan Me A Dime' feel and would've been just fine for the album had the band stopped and not continued to work on the arrangement.
Disc two is centered around the nine tracks from 1969's 'The Climax Blues Band Plays On' credited again to The Climax Chicago Blues Band, supplemented by four bonus tracks, including both sides of the group's debut single. Richard Jones exited the band, so Derek Holt took over on bass and also contributed mellotron to the album which opens with the eight minute epic band original 'Flight,' a jazzy instrumental tune featuring horns and Cooper on saxophone, with Wood's keyboards and Haycock's guitar, especially the latter's lead line and solo, the song's highlights. The fusion sound on 'Flight' was on the cutting edge and exhibited the band's versatility and musical virtuosity. Another band composition 'Hey Baby Everything's Gonna Be Alright, Yeh, Yeh, Yeh' features a heavy groove, with ringing guitar from Haycock, piano and organ courtesy of Wood and mouth harp by Cooper. But it is Haycock's stinging lead line and solo that seal the deal on this heavy shuffle blues number. A cover of Bordleaux Bryant's 'Cubano Chant' displays the lighter side of the band with gorgeously delicate acoustic guitar, saxophone and piano as well as a tasty bamboo whistle contribution by Cooper. The band original 'Little Girl' is a driving rocker with Cooper's sax and Wood's piano leading to Haycock's mid-tune solo, while Newsome's drums drive the beat The instrumental 'Mums The Word' is a real change of pace with an atonal space rock sound a la Pink Floyd, led by Wood's organ and Haycock's guitar. Elmore James' influence is apparent in Haycock's slide guitar on the medley 'Twenty Past Two/Temptation Rag' which also features Cooper on sax and a lovely keyboard interlude by Wood, resulting in a jazz tinged instrumental. A cover of Marshall Paul's 'So Many Roads' popularized by John Mayall showcases the guitar work of Haycock who alternates between flat picked lead guitar and Elmore James style slide as the band reverts to its electric Chicago blues roots. 'City Ways' is a laid back tune featuring mellow organ work by Wood and a pleasantly phased guitar solo by Haycock playing over heavily echoed Cooper vocals. The album closer is the Mayall influenced 'Crazy Bout My Baby' displaying the band's heavier side with Haycock's crisp guitar and Wood's organ to the fore on the six minute plus jam. The bonus cuts begin with the a-side of the band's debut single 'Like Uncle Charlie' with its driving beat and commercial hook, highlighted by Haycock's lead line and solo outro. The single's b-side 'Loving Machine' is a crisp two and a half minute rocker with Haycock's guitar probing, and like the a-side has an early Steve Miller Band feel to it, with Haycock once again soloing the tune out. 'Dance Of The Mountain King's Daughter' is a mellow outtake from the sessions featuring gentle guitar by Haycock with Wood adding texture to the song's melody on celeste. The disc closes with the first mix of 'Flight' a shorter edit, with no horns in the intro as it rocks more with guitar and organ center.stage. Cooper's sax comes in at the one minute mark, but it is Haycock's show and a show stopper at that. The album's mood would have been much different if this mix had been used, although either would have been a fine choice.
Disc three is built around 1970's 'Lot Of Bottle' the final LP credited to the band as Climax Chicago Blues Band. The band added keyboard player Humphry Farmer to fill out the sound on the album's eleven tracks, which are supplemented by three live tracks recorded live at Blow Up in London in 1971. The LP opens with two short numbers, 'Country Hat' featuring Haycock on acoustic slide guitar and the much heavier 'Every Day' which is dominated by Haycock's ringing electric slide guitar. 'Reap What You've Sowed' is another heavy rocker with Haycock to the fore with more slide guitar and an extended solo which plays the song out. 'Brief Case' finds the band returning to their jazz influenced side with Cooper's saxophone joining Haycock's impressive lead guitar line. 'Alright Blue/Country Hat (reprise)' opens with a Mayallish intro combining Haycock's guitar and Cooper's mouth harp, with Haycock adding another impressive solo. Three minutes in the band reprises 'Country Hat' with its Canned Heat influenced acoustic slide guitar. The band's cover of Willie Dixon's classic 'Seventh Son' is another mellow tune, until two minutes in when Haycock's guitar roars in and carries the song for its remaining five minutes. 'Please Don't Help Me' shows Mayall's influence once again with Cooper's mouth harp and yet another impressive lead line and solo by Haycock, while adding a nice commercial hook. 'Long Lovin' M' is a laid back piano and guitar tune with gorgeous vocal harmonies and a Haycock solo outro. A five minute plus cover of Muddy Waters' 'Louisiana Blues' features a drum intro, but remains loyal to the original with Haycock's slide guitar and Muddyesque vocals by Cooper. 'Cut You Loose' is a five and a half minute melodic, keyboard driven closer, with organ joined by Cooper's sax. The live bonus tracks begin with a seven minute take on 'Flight' featuring Haycock's snappy, stinging guitar supplemented by Cooper's saxophone to give the song its fusion feel. A live take of 'Seventh Son' features Cooper's lovely voice, Haycock's roaring guitar, sax and keys accompaniment, and a nice tempo change leading to Haycock's reverb fueled heavy outro. The live recording of 'Reap What You Have Sown' has a Spencer Davis organ driven 'Gimme Some Lovin'' feel before Haycock's guitar inevitably takes over and drives the song to its finish.
"the definitive documentation of the band's earliest period"
Disc four centers around the nine tracks comprising 1971's 'Tightly Knit' the first album credited to the shortened moniker Climax Chicago. The band was back to a quintet with Wood the sole keyboard player. The jazzy 'Hey Mama' opens the album and has a great hook, making it a good candidate for single release, which it indeed was, although it failed to sell in numbers large enough to dent the charts 'Shoot Her If She Runs' features swirling organ and guitar reminiscent of Traffic, before Haycock puts the pedal to the metal, his hot solo soaring over Holt's heavy bass line, driving the song to a finish. 'Towards The Sun' is another jazzy number with breezy saxophone by Cooper. The song has a light and gentle feel, again bringing Mayall to mind and has another nice hook. 'Come On In My Kitchen' the Robert Johnson blues classic is given a great six and a half minute workout, with Haycock's acoustic acoustic slide playing tribute to the legendary writer. 'Who Killed McSwiggin' is a five minute driving stomper with piano, sax, organ and hi hats again bringing Traffic to mind, with its 'Low Spark Of High Heeled Boys' vibe and excellent use of phasing. 'Little Leah' is a snappy minute and a half track featuring Haycock's acoustic slide. 'St. Michael's Blues' brings back the heavy side of the band with Haycock's guitar bringing visions of Cactus at their peak. The band again employs a wonderful tempo change, but it is only temporary as the revs up for the finish, while Haycock's guitar never quits roaring. 'Bide My Time' is a gentle guitar and organ tune with Haycock's wah wah front and center, giving the song its traditional blues sound. The album closes with the short, just over two minutes,'That Is All' which features a Bo Diddley style intro, The gentle number has a killer hook and is a great closer with its 'Mighty Quinn' aura a la Manfred Mann. The bonus tracks start with a live take on 'Hey Mama' which retains its crisp blues rock tempo as it spotlights Haycock's guitar and Holt's bass line, and would have made a real show stopper. A five minute live 'Shoot Her If She Runs' retains its Traffic vibe, as Haycock and Holt again shine and the Cactus influence glows as Haycock solos the song out. The final track on the disc is a six and a half minute take on Willie Dixon's classic 'Spoonful' which the band never recorded in the studio. The mid-tempo tune belies Cream's influence, while Cooper's sax joins Haycock's guitar which drives the last half of the tune over the heavy Holt/Newsome groove, an ideal ending for the live material included on the box set.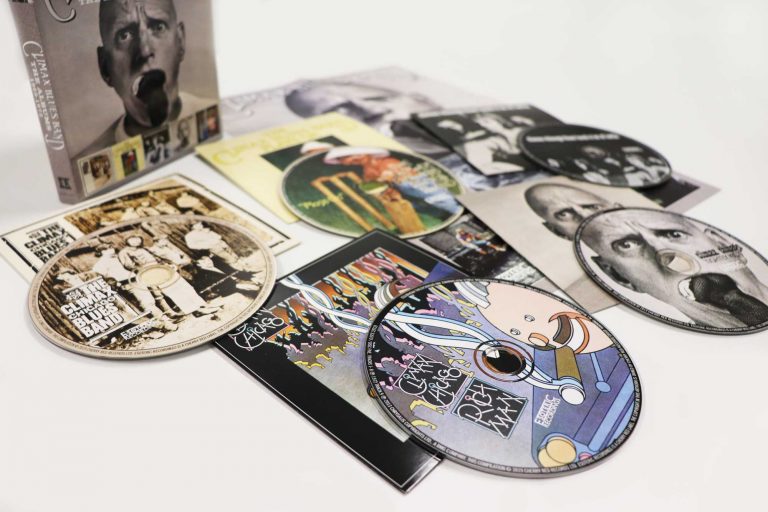 Disc five is built around 'Rich Man' the band's 1972 album, the final one released under the name Climax Chicago. The album's title track is a melodic number with a march feel and driving beat courtesy of new drummer John Cuffley. Two minutes in Haycock's slide takes over and drives the tune the remaining four minutes. 'Mole On The Dole' is a gorgeous, mid-tempo rocker with an accessible, commercial hook. Haycock's guitar and Wood's organ drive the song which is absolutely infectious thanks to Cooper's laid back saxophone and Haycock's relaxed guitar. The song, released as a single, had all the elements of a hit, but the band's time for hit making had not yet arrived. 'You Make Me Sick' features an intro reminiscent of ZZ Top and has wonderful slide by Haycock which along with Cooper's saxophone dominates the song and its Texas blues sound. 'Standing By A River' is a lighter tune, with Haycock's guitar restrained, Wood's organ and Cuffley's percussion adding texture. The song also showcases the band's vocal harmony abilities with Haycock's solo again playing the song out. 'Shake Your Love' brings Bo Diddley to mind with Haycock's guitar giving the tune a 'Who Do You Love' vibe Cooper's harmonica takes center stage before Haycock's slide guitar revs up. 'All The Time In The World' finds the band returning to its blues beginnings on the six minute song, with Wood's organ on display before Haycock's slide guitar roars in. Cuffley's drums usher in a nice tempo change before Haycock's slide closes the tune. 'If You Wanna Know' returns the band to its heavier side with Haycock and Cuffley dominating the intro, but once again it is Haycock's lead line and solo that shine brightly. The album closes on a mellow tone with the slide guitar dominated, humorously titled two and a half minute 'Don't You Mind People Grinning To Your Face' a most fitting ending for the album. The disc and box set close with the single take of 'Mole On The Dole' a full minute shorter, at four minutes, than the album version. It is baffling how this tune failed to catch on, but is evidence of the fickleness of the music buying public. Luckily it would not be long before things brightened for the band in the record sales department, albeit only after once again changing their name, this time to the moniker they are best remembered by, the Climax Blues Band, whose next four albums are the subject of 'The Albums 1973-1976' an upcoming four disc release on Esoteric that will be reviewed here in the near future.
'The Albums 1969-1972' has the five albums, in cardboard mini-LP sleeves contained in a clamshell box. The set also includes a poster and full track listings with album and song credits. The forty nine tracks making up the original LP's are joined by eighteen bonus tracks,a total of sixty seven total, making this without question the definitive documentation of the band's earliest period and will be of interest to fans of late 1960's rock, blues rock and jazz blues fusion alike and comes very highly recommended.
Psychedelic Baby 05-08-2019