Woodstock may have been an entirely different affair had the Jefferson Airplane not been the first band to sign onto the festival's roaster, where simply because of their eagerness and relentless promoting, other top names made the scene as well.
Originally scheduled for the closing slot on Saturday night, Paul Kantner relates, "We were supposed to go on at 10:30 Saturday night and we'd been up and down about four or five times on acid that night, getting ready to go on, and then everything was delayed for whatever reasons. So, we didn't get on until like 7:00 the next morning and everybody was pretty much burned out." Which of course is why Grace Slick touted their set as 'Morning Maniac Music.' Even so, the set was remarkably tight and well considered, where the band of course played the hits, "Somebody to Love" and "White Rabbit," thought the essential surprise was that the Airplane decided to leak material from their upcoming album Volunteers, where to my mind, was one of their finest moments.
"you finally get to hear, or be reminded of, just how powerful the Jefferson Airplane were to the psychedelic 60's"
Sadly I wasn't there for that finest moment, I was preparing to head off to Viet Nam and immerse myself in an entirely different sort of festival. Still what's laid down here on this limited edition (1000 copies) three record gatefold set, pressed to translucent 'New Dawn' blue vinyl, is nothing short of amazing, including the spectacular twenty-one minute hypnotic manifestation "Wooden Ships," a song for which the contemporary psych band Wooden Shjips named themselves. The fact that this collection exists is a surprise to most fans, as the Airplane was featured very briefly during the film documentary due to film that was not up to snuff, though the sound machine that captured their music had not be effected by either the rain, acid or marijuana, where after fifty years you finally get to hear, or be reminded of, just how powerful the Jefferson Airplane were to the psychedelic 60's, or their place of prominence at Woodstock.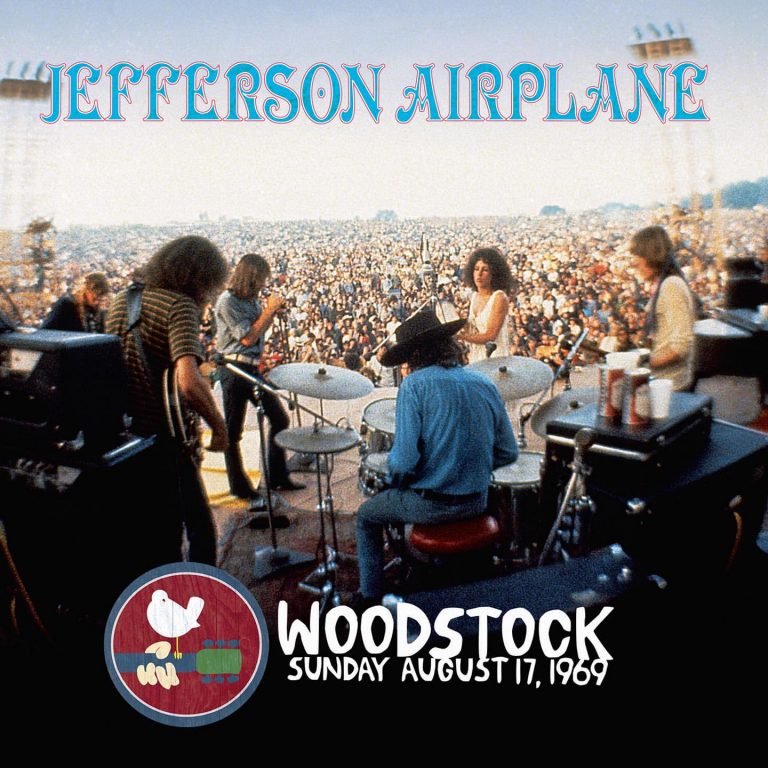 And if that's not enough for ya, the package includes a very psychedelic Jefferson Airplane silver chrome pill case, think the song "White Rabbit," divided into three sections that resemble a Peace Symbol, perfect for housing some of that infamous Woodstock Brown Acid, a couple of Quaaludes and even a Tunnel or two.
As to the sound quality, remember, this was a live event from 1969, the music has been reprocessed and remastered to make it all sound that much more delicious, where all and all, a fine job was done with both the sonic quality and the divine packaging.
Jefferson Airplane – Woodstock Sunday August 17, 1969 (50th anniversary) (Real Gone Music, 2019)
Psychedelic Baby 23-08-2019