A Bangalore based composer, Angad Berar uses analog instruments and recorded samples to create sonic experiences with his music. His music is a concoction between 60's psychedelia, 'krautrock' and Hindustani music. Elephants on the Beach is Berar's debut album which is reminiscent of his college days spent on the beaches of Anjuna, Goa.
Would you like to talk a bit about your background?
Yup sure, I was born in Delhi, India. After travelling and studying all over the country (my father is in the army), I ended up graduating with a bachelors in Industrial Design from Pune. Since then I have shifted to Bangalore where I have been working as a designer during the day and making sounds and noises during the night.
How would you describe your sound?
I have tried to keep the overall vibe of the sound positive and explorative. For Elephants, I wanted the sound to be clean yet full and spacey, something similar to Mark Speer's or Hendrix's "Little Wing"/"Wind Cries Mary" sound. Songs like "Hazy Light", "Diving", "Anjuna", "Between Dione and Mimas" ("BDAM") and "Dreamstate" have this kind of vibe to them – straight up Drive Pedal (gain turned to a minimum), Echo Pedal and a Delay pedal to spread its wings a little bit more. However, "BDAM" sounds a little different from the rest cause the guitars have been reversed entirely in the song, which adds a beautiful longevity to the notes.
"Astroknaut" and "Moonlovin" have this added element created by the Whammy pedal. I love its sound, love how Hendrix and Jack White used it. It adds this twinkling sparkle in the song while pushing its sonic limit beyond what's possible, but I have to use this carefully cause I have a tendency of over doing the sound with that pedal. Hahaha.
"I love the idea of layering with sound, like creating a bed of lush green grass for the other sounds to walk on."
"Svara" has been given a different treatment. "Svara" is low end heavy because the vias the Drone sounds created by Hindustani classical musicians such as Zia Mohiuddin Dagar and Ustad Asad Ali Khan. Songs like "Svara" and "Dreamstate" have a direct Hindustani Classical influence.
Tone wise I haven't yet locked in to a sound that I can call my own. I love the idea of layering with sound, like creating a bed of lush green grass for the other sounds to walk on.
Beluister Elephants on the Beach op bandcamp
When did you decide that you wanted to start writing and performing your own music? What brought that about for you?
Ah man, I have been wanting to write and compose music since the day I picked up the guitar which was way back in primary school. For some reason I never had enough means to create an environment where I could make meaningful sounds. My initial plan was to go to Berkley and take this up 'professionally'. But 'cause our family travelled quite bit I wasn't able to complete my 7 music grades which are a minimum for the university. I am glad that didn't happen… Haha.
How Elephants happened, is probably cause of this…
While we were in high school my sister Amrit and I used to jam quite a bit as a duo. I think it was mostly Hendrix and White Stripes. She plays the drums. That's when I started composing riffs and melodies to help us move out of our usual cover based jam sessions.
I used most of these sketches in college for my first band – Same Shit Different Day.
Same Shit Different Day happened between 2011 – 2013, while I was studying Design at Symbiosis Institute of Design in Pune. Our college used to share the building with the Mass Communication college, in which Shayan Roy (vocals), Malhar (guitar), Souraj Bhattacharyya (bass/guitars) were studying and they were already playing around the Pune college scene. I was a year junior to them and got introduced to the dudes by our future drummer and my batch-mate, Arjun Rajkishore. Over the years we went through a couple of line up changes, which finally included Shayan (vocals), Anurag Bhattacharya (bass), Arjun Rajkishore (drums), Souraj (guitars) and myself (guitars and mouth organ).
We recorded an EP, titled – Smile and Wave, recorded over a week in Mumbai, under the supervision of Karan Puri (Recording and Production). The album's sound was a concoction of Grunge Vocals, blues-rock riffs and a little bit of everything else.
Sadly, the band dissolved by the end of 2013, due to professional and personal reasons and we didn't get a chance to build on that sound.
After Pune, I shifted to Trivandrum, Kerala for work. There, I only had a Takamine Acoustic Nylon String Guitar to play on and because of the guitar's strings, I was forced to re-approach the guitar i.e. play with my fingers instead of a plectrum. Additionally, as I didn't have anyone to jam with, my approach to composition changed drastically. Instead of running lines all over the fretboard, I started playing melodies and sounds in a way that would sound full – cover all the highs, mids and lows. I was stealing Hendrix's style of playing left right and centre, especially the way he uses his thumb to play the root note and his little finger to play the highs whilst the rest of his hand holds down a chord.
This was also the first time I started consciously listening to Hindustani Classical music, such as Ustaad Nikhil Banerjee, Shahid Parvez, Zia Mohiuddin Dagar. It was the performance of Ustad Asad Ali Khan, playing the Rudra Veena, which changed my approach to the guitar almost overnight.
Over the 3 years that I was in Kerala, I regularly recorded the composition ideas on an iPod Touch, which was eventually released as a sketch on Bandcamp – Amongst Them Shades of Green. These 7 tunes were recorded in Nedumangad, Kerala, over many seasons, all impromptu and improvised. The idea behind releasing this was to give a glimpse to the listener of how an artist might discover or stumble upon a composition/melody and reveal the stage which is literally their first step at composing a tangible tune – 'Surrendering to the moment and letting the music take you'.
Beluister Amongst Them Shades Of Green (Sketches) van Angad Berar op bandcamp
Fast forward to 2018, I moved to Bangalore. This was the first time I was financially stable to invest in enough gear to start recording the compositions at home. Once I had the independence and freedom, I immediately started writing the album down, which started sometime in Sep/Oct 2018 and came into fruition this year in August.
Elephants' showcases what I have learnt over the years and at the stage I am currently at – from a guitarist and a composer's point of view.
How do you usually approach music making?
I feel my experiences of a being design student has to do with the way I have approached composing music. In design, my sole responsibility is to create an experience – physical or digital, that fulfills its purpose and does justice to whomsoever it has to serve. This could be a chair designed for a home or an app to help you maintain a healthy diet.
However, in music I essentially have two approaches,
…A song should have a purpose, and it's my responsibility to put in enough time and energy so that it fulfills what is intended for the listener. The approach to a song is different when it's a narrative, for example in "Astroknaut" the protagonist enters a journey and comes out with a realisation. Creating this narrative, I divided the song into different chapters and gave each of them a different treatment. Creating the second chapter was super fun because it let me use tools and methods of playing the guitar which I probably wouldn't have used. For instance some shooting star sounds were created using a 'katori' – a stainless steel bowl. I have barely scratched the surface here and know that I am only a student to this process. There is a long long way to go…
Otherwise, in those rare beautiful moments the music itself chooses a person to help make it tangible. These moments are quite rare but when they come I take a back seat and just ride with it. "Svara" and "Diving" were made this way… While recording, I usually lay down the drums and bass first. This helps me set the backbone of the piece.
hat is solid I start painting over and around it. Later I will probably re-record the bass lines to match the energy of the guitars and make amendments to the rhythm section.
Can you share some further details how your latest album Elephants on the Beach was recorded?
It was done on a pretty simple home setup. I use a Ibanez Artcore hollow body which is connected to a Mac (2015) via a Focusrite 2i2. Being a 'home setup' I recorded all the tracks on GarageBand manipulating the sounds either via my pedals or the GarageBand pedals and eq tools. Most of the guitar parts were first takes, intentionally left to make the vibe of songs feel more 'live'.
Besides this I connected the MAudio midi keyboard directly to the Mac. The percussions and organ sounds were created on this baby.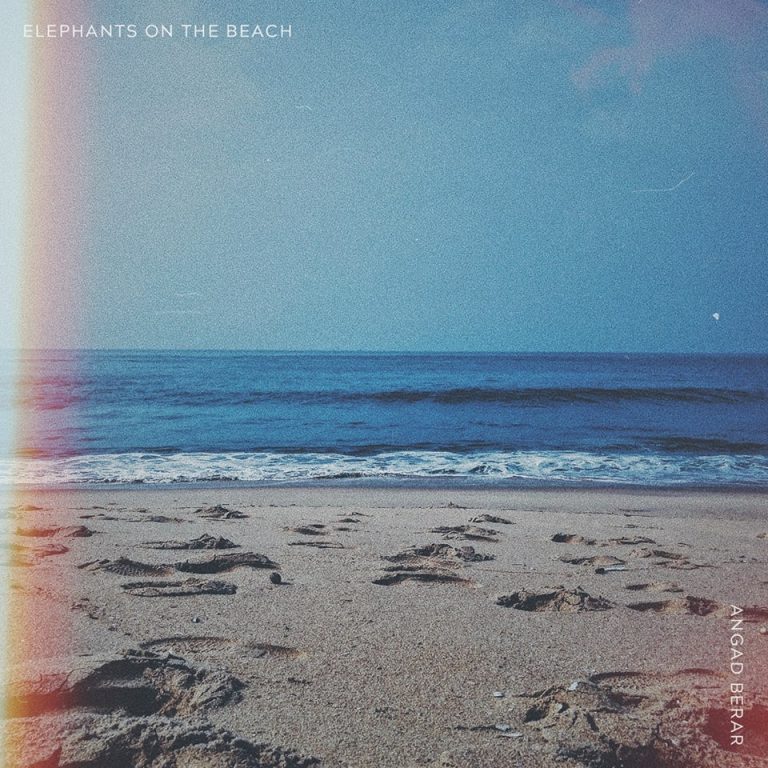 The bass was played on the Ibanez… eh… by tuning the low E to Low A so there could be more depth in the bass line …hahaha. I found this tuning to be quite fun cause I could play with octaves with ease. Besides this, the background bird and white noise samples were recorded on the Zoom H6.
"Psychedelic rock has had a huge influence on my playing."
The album sounds like a fusion between psychedelic rock and traditional Hindustani music.
Psychedelic rock has had a huge influence on my playing. I started by listening to early Floyd, Hendrix and then got introduced to bands like My Brother The Wind and Causa Sui. Songs like "If 6 Was 9", "Third Stone" and "Careful with That Axe, Eugene" have opened up quite a few windows for me. I love the use of narration in early Floyd's work. Later, while I was in Kerala I started listening to Hindustani music, whose influence grew quite a bit on my playing. Songs like "Astroknaut" have a little influence of 'krautrock' but only in its essence.
There are 3 songs in the album which have glimpses of Hindustani music – "Svara", "Dreamstate" and "Anjuna". "Svara" was completely inspired by the drone like sounds of a 'Dhrupad Veena'. "Dreamstate" has this 'linearity' in its composition which was again inspired by the compositional structures of Hindustani music, where the lead instrument sways across the composition with the support of drone instruments like the Tanpura.
I do look forward to exploring this further and enhancing my limited knowhow of this beautiful art.
I really enjoy the samples in-between the album.
I didn't want to add vocals in the songs. Wanted the songs to have an open ended meaning, something that is unique to the listener. However, some songs needed a certain narrative to support the vibe of the sounds, so I decided to add snippets of samples to give the narrative some push. "Hazy Light" was created with a message/idea in mind – life is beautiful, there is beauty in the mundane, in all of us. So the appropriate samples were used to complete the picture.
For "Diving", I felt the song was leading to a message… the guitar's sound is just playing the messenger's role… its echo… placing Mooji's sample there made sense.
With "Between Dione and Mimas" I was thinking of adding samples through out the verses, hence I created the layers of sound. But what made me change my mind was the transition that leads to the heavy synth breakout. The instruments weren't enough. It needed something powerful, something uplifting… especially after the walk through the sonic gardens… And what is more powerful than the message of Love, especially with Alan Watts voice driving it.
"Elephants on the Beach is not about Goa, LSD or even the elephants but more of an ode to what 'reality' is."
There seems to be a concept about self discovery?
Yeah and an ode to what 'reality' is. Elephants on the Beach is reminiscent of the days spent on Anjuna beach in the years of 2011-15. These days, whilst being fun and colourful, were in essence quite revealing – me to myself and the beauty of life around me.
The funny thing is that even after knowing that they couldn't see the elephants, to me, they were as real as the air I was breathing… just walking and swaying down the shoreline till my eyes couldn't see them anymore.
Elephants on the Beach is not about Goa, LSD or even the elephants but more of an ode to what 'reality' is. The scary, as well as the beautiful part of it, is that each one of us has a different perception of reality in general. We make decisions and take actions in our lives based on how we 'see' it. Everyone has their own Elephants walking around keeping them company – perceptions of Love, Dreams, Beliefs, Ideals, Symbols, Animosity, etc… However, at the end of the day it is all of our collected perceptions stirred together, that creates this beautiful funk called life.
I have tried to paint the above experience(s) in essence, through all the 8 songs.
You were studying and spending time at beaches of Anjuna, Goa. What kind of impact had that on you?
No, that time I was studying Design in Pune, Maharashtra. We used to visit Goa quite often. It was an overnight journey and the beaches were quite peaceful back then. It was a nice way of looking at everything from far away, you know the sounds and tempo of the city – how it impacts our decisions. How our society is functioning, the education, caste system… It provided a nice window to look at things that are not easily visible otherwise. More than Goa, it was the whole vibe in our circle be it Pune, Gokarna wherever… all of us friends had left our homes probably for the first time, moved to a different city. There was this sense of newly formed freedom and independence…and we embraced it with open arms.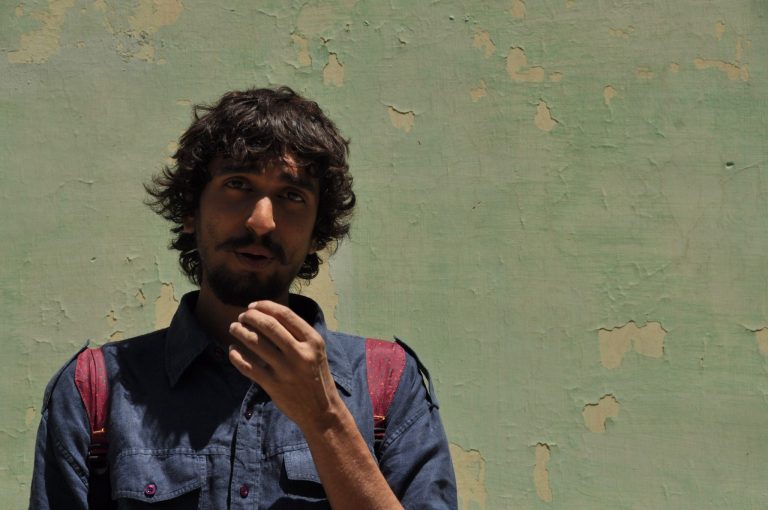 How is Goa today?
It has changed quite a bit, both in its negatives and positives. It's more accessible to people who need a breather but the consequence of Urban Development and 'Tourist Centric Economy' has cast a shadow over its charm. But I guess that's how scenes change. I wouldn't know if the vibe of the 70s/80s is still there cause I never experienced it. All I know is from what I have heard – that people were probably more liberal and free flowing back in the days… there was a sense of trust between them and they embraced a slow paced life under the warm Goan sun. Today's Goa is fun for who ever seeks it but in my experience I have seen people travel further south to Kerala's beaches to experience the silence and the sun.
A few years back I met a guy at the Panjim bus stop. We started talking and he began telling me about how things were back in the day… "people could leave their shoes, money and belongings right in the middle of the bus stop and come back after a few hours to find them right there. No one would have picked them up. Cause the stuff wasn't theirs to keep" – that says quite a lot about those days. It's hard to imagine a scene like this anywhere in India. Maybe it still exists in some corners of the country… ssshh.
Regardless of what and where Goa is today, it will always be magical to me.
What can you tell us about producing the album?
So once the songs were recorded and the automation for each of them was finalised, I realised they needed a second pair of ears. Someone who could space the elements out properly cause I didn't have any experience with mixing and navigating through the compressors and the sonic filters. After searching for a bit I found this beautiful soul known commonly as Ashrey Goel through our common friend Nabiha, right in the middle of the Rajasthan desert playing keys for this psych Dream Pop band called Dee En. They were playing the Magnetic Fields Festival.
He heard, agreed and moved his setup to the mountains in Bir, Himachal Pradesh where the album was mixed and brought to life. We worked remotely for 3 months. He would send me a song and I would revert back with my thoughts in a pdf. Most of the mixing effort went into the sonic placement of each element and to make them sound just right. "Hazy Light, Sunlight" probably took the longest time cause it would later become the reference for most of the songs on the album. An interesting thing I observed during this process was that whenever I heard a new mix I had to do a double take cause one of the repercussions of properly spacing out the sound is that the perceived tempo changes every time. So our main topic of conversation during the mixing was about the vibe and feel of the song, more than the eq level of the bass or the delay on the snare… "Dreamstate" had to be linear with a gentle to and fro to its rhythm section… like literally being in a state of dream. While "Svara"'s sound needed to be as if the mountains have opened up to the great heavens… There weren't any re-recordings needed so that saved us some time and effort but Ashrey really had to pull some rabbits out to get the sound just right.
It's quite difficult to find producers or sound engineers in India who have experience with this kind of sound. It was a charm working with Ashrey cause he straightaway got the vibe of the songs.
You seem to enjoy a lot of 'krautrock'?
Oh yeah, I am quite a newbie to this movement but have been hooked since the day I heard 'em. My good friend Apoorv introduced me to 'krautrock'.
It was my first week at work in Bangalore, India and I was quite happy with the work environment… you know… we used to have this Marshall amp… and the music would keep on playing throughout the day. For some reason I never felt like knowing who was playing the songs…the playlist was chill and needed know further knowing from my side. Then one fine day I heard this song… it had this steady drum beat with a bass line pushing the tempo. Over which, were these strokes of sounds and colours painting a picture. I had never heard of a song like this… something so persistent yet free… I think the song was "Für Immer" by Neu! I instantly got up and went near the speaker and asked who was playing this song… after a brief moment of silence, this guy gets up… looks straight at me through his glasses and with a smile on his face says, "Who else"……… hahaha. Since then, I have been binging on Neu! And can quite a bit. But there are other artists like Harald Grosskopf (interview here), Guru Guru (interview here and here) and Föllakzoid (especially the song "9") I really dig. Minami Deutsch and Faust (interview here) are also pretty cool!
For me 'krautrock' has a sense of freedom in it. It's like driving on a flat open road with snow covered mountains on each side… you know, like somewhere in Kashmir. The journeys have such a positive vibe to them… The only song from Elephants that I feel has this vibe is probably "Astroknaut", especially the first chapter. However for the future projects I plan to understand this idea further and implement what I have learnt… should be fun.
To a what degree are you inspired by Alan Watts, Mooji and Albert Hoffmann?
To quite a degree I would say… I got introduced to each one of them at different points in my life. I had an instant connection to Mooji cause of his energy and they way he communicated his thoughts. The clarity and conviction in his words were enough for me to open my ears up. Similarly, I felt the same conviction in Alan Watts lectures… the ease he deconstructs eastern philosophy and shares it with the world is beyond me… I absolutely adore his talk on love and madness. My dear friend Rima introduced his work to me and I have been listening to his words on and off since then.
Hoffmann on the other hand was a household name during my college days cause of the obvious reasons… but it was when I saw a documentary about him and his work much much later called Perceptions (directed by Sabine Bally) did I actually understand his intentions for creating what he did and the journey he took to reach that point. I am paraphrasing here but his philosophy for LSD was that it should be utilised in a more spiritual context, similar to how shamans did in a meditative environment… not in a confined framed and definitely not how the pop culture has embraced it. The documentary ends with him saying "The last stage of perception is achieved when the frontier between the subject and the object, between the observer and the observed, between the outside world and me, no longer exists in a conscious way… When I have become one with the world and its original essence, this is the state of love."
How pleased were you with the sound of the album?
With the resources I had in hand, I feel the sound has been fair to what the album needed. The vibe is felt through. I absolutely love the sound of "Svara", it's the track with minimal edits in post recording. Ashrey did a beautiful job of creating a lush forest from the twigs and branches that I had given him. Looking back, I feel more effort could have been put on the bass (by… maybe playing a bass guitar…eh…) and live recording the drums, especially for "Astroknaut" and "Moonlovin". But the tight budget didn't allow me to try those options out.
Saying that I still prefer to record everything within the walls of my home. The level of flexibility and comfort I get recording in the middle of night is hard to get anywhere else. Plus I don't want to be known by a particular sound… can't imagine myself composing tunes the same way or using the same sounds. Each project, if it has a unique meaning, will probably have a unique sound to it… you know? I love how bands like Radiohead, Beatles or even The Black Keys explored new sounds in all their albums… it's like introducing a new world to their listeners with every album.
Regardless of what sounds are created I hope the next project will have a much more fuller sound.
The album is currently available online. Can we expect a vinyl or CD issue too? Would be really great to hear it that way.
Ah, that would be lovely… but no plans for now. Maybe if and when there is enough demand. The vinyl culture is still picking up in India, 4g/5g network and online music streaming have overwhelmed the listeners with the ease of access… haha. It's funny but the album art was designed keeping a Vinyl Cover in mind. Lets see how things turn out in the future.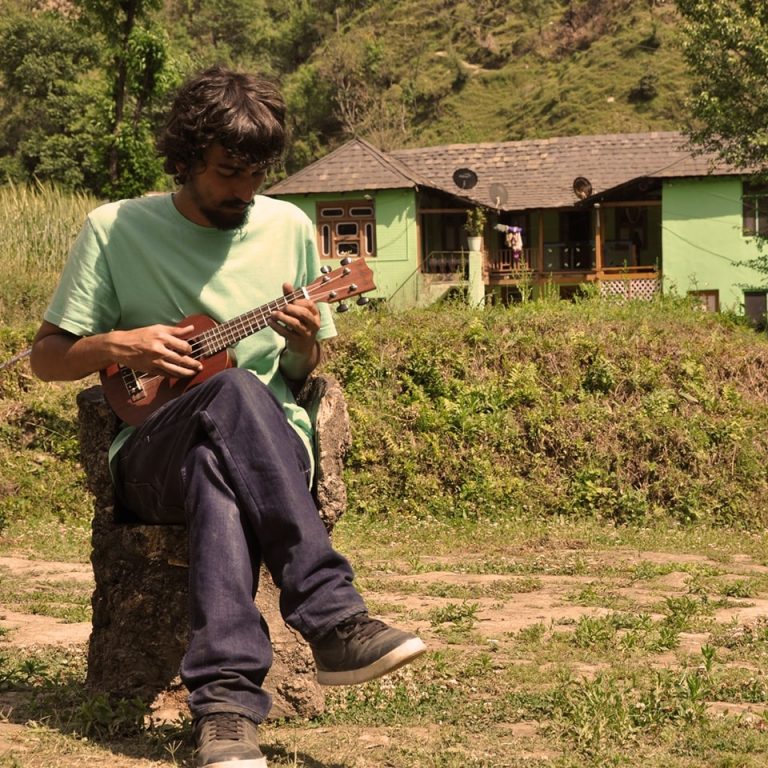 Let's end this interview with some of your favourite albums. Have you found something new lately you would like to recommend to our readers?
This is my favourite question. There is so much of good music in this world… It's hard to lay down all of them so I will just share the albums that have been on my 'recently played' playlist
Tunnel/New Pastoral Life by Minami Deutsch
Pocket Change by Nate Smith
Muscle Up by Patrick Cowley
Elwan by Tinariwen
Hasta El Cielo by Khruangbin (love the dub version)
How about in India?
India has some pretty good sounds cooking… especially in the Indie Scene. These are some of my favourites.
Bismillah by Peter Cat Recording Co.
Joro by Gauley Bhai
What Colour is your Raindrop by Tajdar Junaid
Poppin by Dee En
Creature Hum by Moonsiren
Thank you. Last word is yours.
Thank you for the opportunity and for your thought provoking questions. It was a joy answering them. Peace and love.
It's Psychedelic Baby 28-09-2019