Ramses are a German progressive rock band formed in Hanover in 1972. The recordings for the first album La Leyla were done in Conny Plank's studio in just eight days. The album was released in February 1976. Their latest album is entitled Firewall.
Interview with Herbert Wolfslast
When did you begin playing music? What was your first instrument? Who were your major influences?
Herbert Wolfslast: I began at the age of about 13, i.e. 1965, after hearing the Stones and the Beatles. My elder brother had also influenced me, because he had an acoustic guitar and used to play the early songs of Cliff Richard and the Shadows etc. And I had a friend who showed me the first rudimental chords on the guitar. Then everything began.
How would you describe the early counterculture scene in Germany in the late sixties and early seventies?
There were quite a lot of people that I knew, some of them could be characterized as "political" (e.g. communists, the early "Greens") and some of them "drop-outs" i.e. people who did not want to be in line with the establishment and preferred to live a more liberal, unadapted life, I was more involved in the latter category, but I completed school, made an apprenticeship and then first worked in a chemical company as a translator and then as a free-lancer.
Were you in any bands prior to joining Ramses?
I was in quite a few bands. It all began with beat bands. The first one was called "Message" with my friend "Atze" (nickname), who later became a famous guitar builder. We covered songs by the Doors, Cream etc. and I played my first e-guitar – a red "Klira". Then we had our first gigs. The second band was "The Seldoms" where I changed to the bass guitar because they already had two guitar players. But this was more or less for fun. Not many gigs but I remember when we played on the roof in New Year's Eve at Midnight. (like the Beatles on the Apple building).
All this took place in Hanover. Then other bands followed where we played our own songs, e.g. Pathway and Delight, where I used a double-neck guitar (Rickenbacker 4-string-bass and 6-string-guitar) for the first time.
Your first played on Light Fantastic? What's the story about it?
When I played with Delight I met the members of Ramses, just at the time when their singer Herbert Natho and their bass player H.D. Klinkhammer decided to leave the group after the two successful albums La Leyla and Eternity Rise. This was in 1979 and the remaining members of Ramses asked me to join the band. They were just working on their third album which was to become Light Fantastic. It was my first album I was involved with and I contributed a song ("Force of Habit") and almost all the lyrics.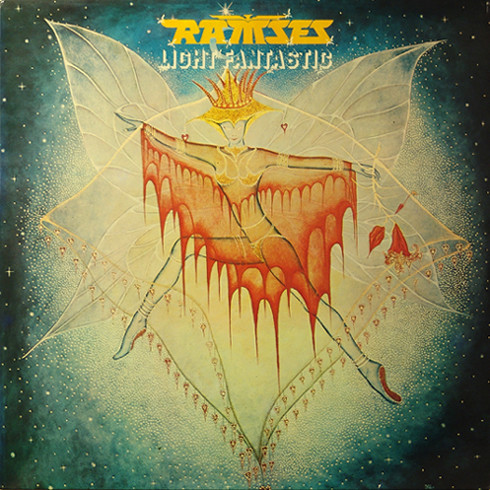 What influenced your sound?
I was mainly influenced by great bass players like Chris Squire, Martin Turner, Greg Lake, Mike Rutherford etc. – however only trying to reach their sound!
Being a fan of Genesis I even bought a Shergold Double Neck guitar (4-string-bass and 6-string-guitar) which I still use during live performances, because it offers the possibility to switch between bass and guitar within a second.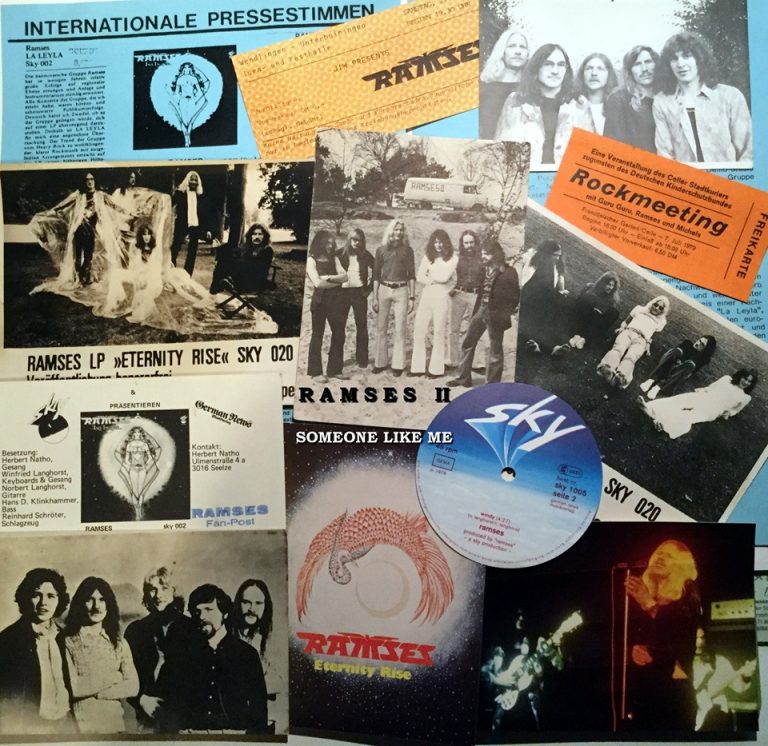 Collage with former Ramses members until (including) the first two albums. Bottom side left: (from left to right: Bernd Probst, Hans-Jürgen Lammers, Herbert Natho, H.-D. Klinkhammer, Peter Klages Picture in the middle above Sky Sticker: Norbert Langhorst, Dete Kuhlmann (who played drums for a short time), Herbert Natho, Winfried Langhorst, Peter Klages, H.-D. Klinkhammer. The other pictures showing the lineup of the first two albums.
Ramses was one of the most 'progressive' bands on Sky label.
Maybe, but Günter Körber, the owner of Sky, had gathered many interesting bands under his label, like Harlis, Michael Rother, Anyone's Daughter, Straight Shooter, Streetmark etc.
Where did you tour? Who are some of the bands you played together?
We toured all over Germany but also in Luxembourg and Switzerland.
Sometimes we played on festivals, where we shared the stage with Jane, Epitaph, Martin Turner's Wishbone Ash, Guru Guru, Birth Control and many more. Many gigs had taken place before I joined Ramses, because they already started in 1972.
How did the lineups change during the years?
The very first lineup was Peter Klages on guitar (this guy was fond of old Egypt and had the idea for the name Ramses II), Hans-Dieter Klinkhammer on bass, Herbert Natho on vocals, Hans-Jürgen Lammers on drums and Bernd Probst on keyboards. The lineup when they recorded their first two albums was: Norbert Langhorst on guitar, his brother Winfried Langhorst on keyboards, Reinhard Schröter on drums, Hans-Dieter Klinkhammer on bass guitar and Herbert Natho on vocals.
Then in 1979 Natho and Klinkhammer left and I showed up on bass and guitar and Reinhard Schröter changed to vocals, keyboards and composing, but for the album Light Fantastic, still another singer, Matthias Möller, was engaged. For the gigs we had a live drummer – Claus Arve – and played with two drums, Reinhard and Claus.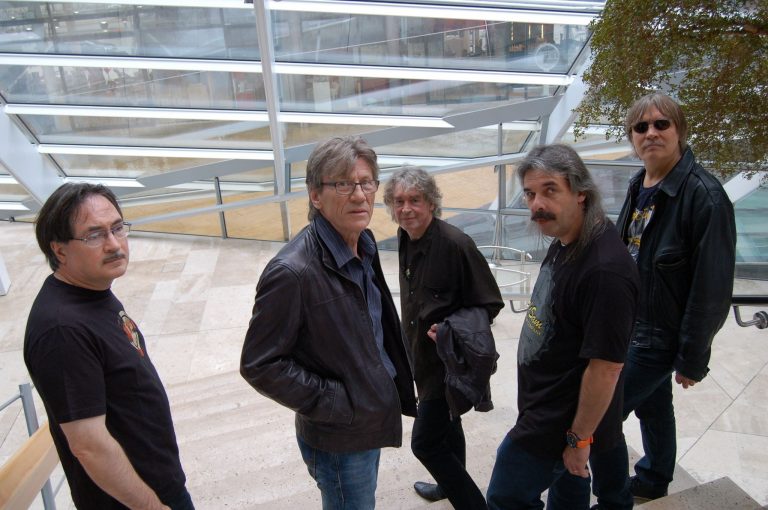 Ramses lineup on Control Me and Firewall (from left to right): Norbert Langhorst (guitar), Reinhard Schröter (lead vocals, keyboards), Winfried Langhorst (keyboards, second lead vocals), Carsten Loll (Drums and percussion), Herbert Wolfslast (bass and guitar) | Photo by Gabriele Wolfslast
Firewall was your latest album from a few years ago. Would you like to share a few words about it?
This was a great album where we first used full digital recording and mixing. The drummer then was Carsten Loll (like on Control Me before). The lyrics again were all by me with a few exceptions and dealing with contemporary subjects and a bit critical of our modern world. Again I contributed a song "Virgin Zone".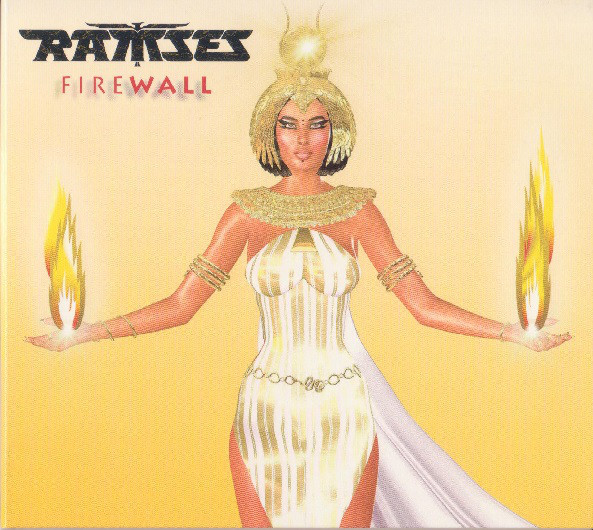 How pleased were you with the sound of the album? What, if anything, would you like to have been different from the finished product?
We were quite satisfied with the sound, although afterwards there are always things you would like to have done different. I think, Norbert's guitar work stands out, no wonder why – he spent a lot of time for composing and recording his guitar parts.
After Firewall our new record company Sireena published a remastered version of the earlier Control Me album with even more bonus tracks, e.g. a live version of war where our new drummer Frank Gebauer can be heard for the first time.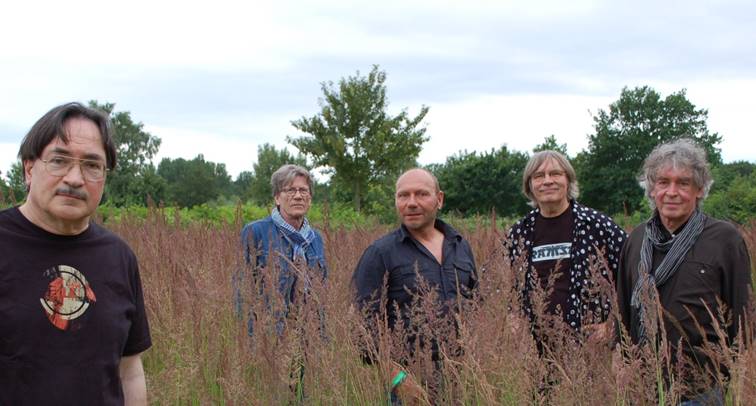 Today's Lineup from left to right: Norbert Langhorst, Reinhard Schröter, Frank Gebauer, Herbert Wolfslast, Winfried Langhorst | Photo by Gabriele Wolfslast
Thank you for taking your time. Last word is yours.
Now we are working on the next album and have already recorded the basic tracks (backings). Almost all of them, because the day when we wanted to record the last backing it was just the day when our government prohibited contacts between people due to the corona virus. So our group working must be paused and I am using the time for writing the lyrics for some songs. God knows when we can go into the studio again. Stay healthy, folks!
P.S.: Please visit our homepage
www.ramses-music.de
where your find the whole story of Ramses and many photos.
It's Psychedelic Baby 22-05-2020